We love StoriesBig Finish produce great full-cast audio drama for CD and download, featuring many popular television fantasy series.
Catch Up With A Big Finish Week
17 July 2016
Catch up on a week of news and releases from the worlds of Big Finish!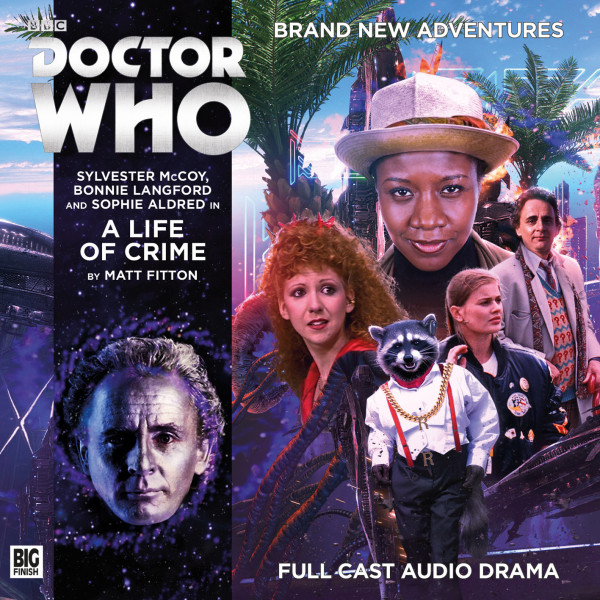 The summer holidays are nearly here! And what better way to celebrate than with a relaxing trip to the paradise planet of Ricosta? Sandy beaches, delicious foods, adorable locals – and no extradition treaties. Perfect for a galactic criminal in hiding: such as the one and only Melanie Bush!
The Doctor's computer genius companion is back in action in Doctor Who: A Life of Crime, written by Matt Fitton. Bonnie Langford returns to her iconic role for a reunion with the Seventh Doctor (Sylvester McCoy) and Ace (Sophie Aldred). But before they can celebrate, our reunited trio must ally themselves with the mysterious Gloria (Ginny Holder) against the awesome power of the Sperovores...
Can our heroes save the day in time for cocktails on the beach? Find out with the start of a brand new Seventh Doctor trilogy, available to buy and download now for just £14.99 on CD or £12.99 to download, with subscription options also available. With a complimentary digital copy included with all CD orders, you'll able to take the story to enjoy on your own vacation!
While his later incarnation is relaxing in the sun, the Fourth Doctor (Tom Baker) is still hard at work, once again on the trail of the villainous Cuthbert (David Warner) in Nicholas Briggs' new story Doctor Who: The Pursuit of History.
The evil Conglomerate leader is trapped in 19th Century Yorkshire; but in the far future, his scheming underling Mr Dorrick (Toby Hadoke) has found a way to aid his employer; a plot which involves kidnapping Romana (Lalla Ward)! Can the Doctor and K9 (John Leeson) catch up with their friend before time runs out. Or will time catch up with them? Enjoy the first part of the Fourth Doctor Adventures Series 5 finale and find out!
You can catch up on the entire adventure so far with a Series 5 Subscription, which contains all of 2016's previous Fourth Doctor stories alongside August's climatic Doctor Who: Casualties of Time. A Series 6 subscription is also available, as well as bundle collections of Series 1 to 4. There's a huge variety of Bundles options on our past releases, all saving money and time with easy ordering.
The latest run of Fourth Doctor Adventures may be coming to an end in August, but September will see the start of Series 3 of The Early Adventures, featuring four new stories for the First Doctor and his companions. The series begins with Doctor Who: The Age of Endurance by Nick Wallace.
Set in the middle of a decimated war zone, this authentically Sixties adventure stars Carole Ann Ford as Susan and William Russell as both Ian and the First Doctor; with Jemma Powell taking on the role of Barbara, originally portrayed by the late, great Jacqueline Hill.
Future stories will feature the return of Maureen O'Brien as Vicki, Peter Purves as Steven, Jean Marsh as Sara Kingdom and the introduction of James Joyce as Jospa. Preview the new titles on the release pages here and subscribe to the series for an additional saving.
Unfortunately, one of our upcoming titles is now a little further into the future, with Charlotte Pollard: Series 2 moving back in our schedules to March 2017. But followers of the Eighth Doctor's Edwardian Adventuress companion have no need to worry, as she'll be back in action in November for a new Short Trip: Doctor Who: The Man Who Wasn't There, performed by Charley actress India Fisher.
Charlotte Pollard's travels will also continue in a third series of her own adventures, with more details coming soon. The Eighth Doctor's later companion Liv Chenka (Nicola Walker) will be enjoying her own Short Trip with January 2017's Doctor Who: The World Beyond The Trees. Both Short Trips can be pre-ordered today for just £2.99, with money-saving subscriptions and bundles on a year's worth of stories also available!
That's almost it for this week, but don't forget to check out our review round-up of New Series blockbuster UNIT: Shutdown and catch up on the Dark Shadows team's activities at the recent 50th Anniversary Festival in New York in an all-new Dark Shadows podcast! Nick Briggs' latest round-up of all things Big Finish is also available to listen to now on our website, iTunes and SoundCloud.
Next week: get your favourite bowler hat and umbrella ready, as we prepare to enjoy the penultimate set of cases for Steed (Julian Wadham) and Keel (Anthony Howell) in The Avengers: The Lost Episodes Volume 6.