We love StoriesBig Finish produce great full-cast audio drama for CD and download, featuring many popular television fantasy series.
28 June 2018
What did you make of the return of the brothers Cicero to a full series? Here are some of the reviews on the Big Finish Original release before it rises in price at the end of the month.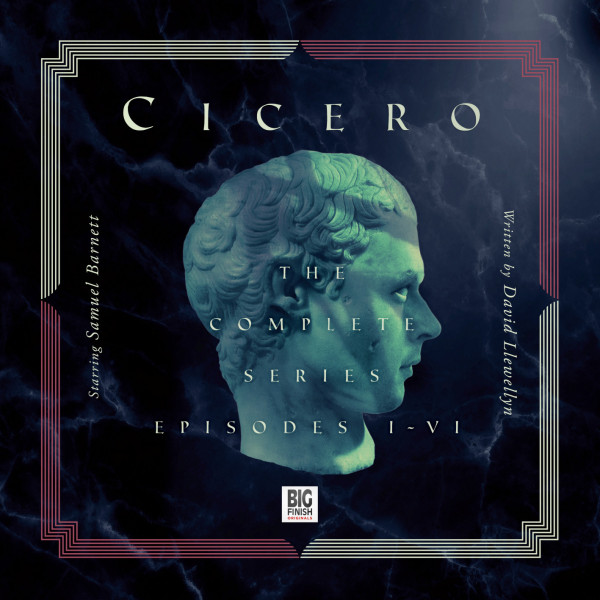 Written by David Llewellyn, we take a look at what the critics made of Cicero and life in Ancient Rome, a month after its release.
Blogtor Who had an interesting take on our protagonist, played by Samuel Barnett: "Marcus Tullius Cicero is not a hero in these stories. He has heroic moments but they're also countered with moments of weakness and cowardice. None of which are displayed to be more than decisions, and circumstances, of a characters life. David Llewellyn delivers a human character who is flawed despite ambitions and virtue. He's a man of his time even if he views himself better. The history of the real man, complimented with the character created for the audio drama, is complicated.
"It's an excellent look at the past to reflect ourselves in the 21st century. We have a man who believes in the law and goodness but some of those laws don't take all human life into consideration. Two thousand years later we're still dealing with the similar issues, even if at different ends of the spectrum."
Cultbox looked at the worldbuilding aspects of the series: "With its insights into the plight of slaves and the fragile, yet powerful position of Roman women, we see that Cicero's world is a complex place.
"Cicero himself is fascinating too; likeable for the most part, yet clearly ambitious and with a streak of vanity. Despite railing against corruption, he is not above using his knowledge as a weapon. The stories also highlight, in a subtle way, his double standards on slavery; Cicero seems less worried about the loss of life, unlike his brother, as the leverage it can provide him in his case."
And Cicero even made waves down under with a 9/10 review from Glam Adelaide: "This second release from the Big Finish Originals range (the previous being ATA Girl) is a powerful example of how the writers at Big Finish can craft something quite special without the restraints of an established TV show to hinder it.
"Writer David Llewellyn has written the six episode epic about the famed Roman lawyer, politician and philosopher who influenced so many with his writings. This particular series covers his early victories in the law courts and subsequent first marriage and retreat into Athens. The scripts are tight and engaging and, despite the length, rarely lose momentum."
Rome, 80BC. An age of bloody civil war and dictatorship is at an end.
In its turbulent aftermath, an ambitious young lawyer, Marcus Tullius Cicero, is beginning to make a name for himself. But does he have what it takes, and can this new era of peace and prosperity truly last?
When he defends the accused in a prominent murder trial, Cicero's path crosses with that of Sulla, the former dictator and a war hero of the Republic. Soon, Cicero will discover that beneath Rome's civilised and sophisticated veneer lies corruption, cruelty and vice. Taking on the Roman underworld may come at a considerable cost, and so Cicero must find a way to balance family and friendship with his unwavering commitment to justice.
The Roman world is on the brink of revolution. The age of Caesar is drawing near. And Cicero will have to do everything he can to survive the storm.
Cicero is available as part of the Big Finish Originals range, a new wave of original full-cast plays launched to celebrate 20 years of publishing award-winning audio drama. A free excerpt of Cicero can be downloaded here.
This first series of Cicero, containing six episodes, is available on download (only) from Big Finish for £21. This includes the pilot of Cicero – Though Scoundrels are Discovered (originally released in February 2017) which listeners can also download separately for a Web Special Price of £5 from www.bigfinish.com
The complete Big Finish Originals range is also available in a pre-order bundle deal of £125, as well as being available as individual downloads.
Keep checking the Big Finish website for more details on this and other upcoming Big Finish Originals including the soon to be released, Jeremiah Bourne in Time written by and starring Nigel Planer.