We love StoriesBig Finish produce great full-cast audio drama for CD and download, featuring many popular television fantasy series.
Dark Shadows - Shadows of the Night Update!
24 May 2017
Today we've got more news on December's forthcoming collection of Dark Shadows short story readings...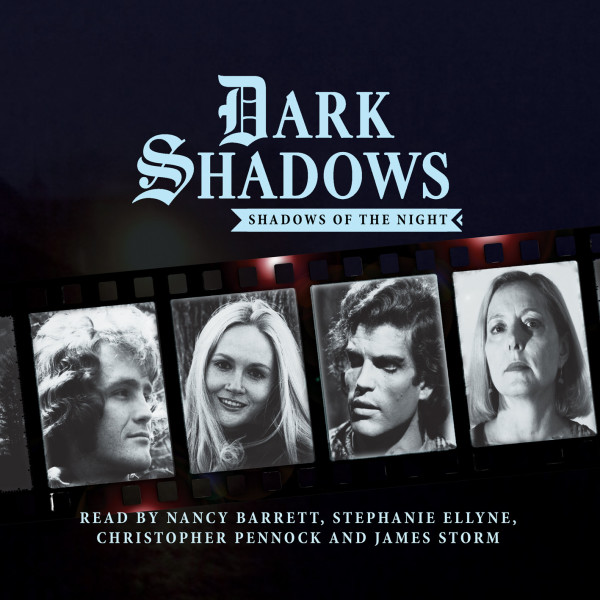 Big Finish Productions are pleased to announce details for the Dark Shadows short story collection Shadows of the Night:
The first story in the collection is Trio and is written by a writer new to Big Finish, Nick Myles. It stars Nancy Barrett as Carolyn Stoddard.
"I was really pleased that my pitch for Trio was accepted" said Myles. "It's set during Carolyn Stoddard and Amy Jennings' university days, and tells the story of their relationship with a strange creature called Jude. Jude looks freakish and has mysterious powers - it was fun creating a brand-new-sort-of-being from scratch. Like myself, Jude's a pianist/composer, and I think Trio has a touch of the gothic romance of The Phantom of the Opera about it. Jude was also partly inspired by The Mule from Isaac Asimov's Foundation novels, who I've always found a moving, tragic character. Bringing Carolyn and Amy into Jude's orbit and finding out how their friendship is tested by the experience was a very satisfying project."
The second story is also by a new writer – Antoni Pearce. Honeymoon From Hell is performed by Christopher Pennock as Cyrus Longworth-Jennings.
"I was very pleased to get the chance to write for Dark Shadows," says Pearce. "I've started watching the series and I'm really enjoying it. The story focuses on the honeymoon of Cyrus and Sabrina in Germany. Being Dark Shadows, though, It's definitely not an average honeymoon!"
The third story, again by a new writer – Daniel Hinchliffe – is Retreat, read by Stephanie Ellyne.
"Having thoroughly enjoyed Stephanie's performance in so many Big Finish stories, it was a great honour to be asked to write another chapter for her character, Amy Jennings," says Hinchliffe. "As a woman whose roots spread far into both the TV and audio series, there was a wealth of history to draw upon, acting as springboard to tell something new. Of course, it was also an incredible opportunity to write for the number one brother/sister duo of Collinwood: Elizabeth and Roger!"
The final story in the collection is 1:53 AM by another new writer, Lila Whelan. The story is a first for the Big Finish Dark Shadows series as it is set after the events of the 2003 audio play Return to Collinwood.
"When I was looking at which actors we could use in the short story collections, James Storm was very much on the list," says co-producer Joseph Lidster. "James played the character of the villainous and charming Gerard Stiles in the television series. We brought the character back in Carriage of the Damned and the short story collection Love Lives On but James also played Doctor Robert Harper, an expert on the supernatural, in Return to Collinwood. I thought it would be fun to give him the chance to return to that character and for us to tell a story set in this century. Lila's written a fantastic script that adds many layers of depth to Robert. I'm also thrilled that we've been able to get so many writers new to Big Finish to contribute towards these collections."
"I'll admit it, I've got a deep, dark, not-so-secret secret crush on old-school horror films," says Whelan. "The Exorcist, Poltergeist, The Omen, Rosemary's Baby… the weirder and more frightening the better! And being able to bring a little of that '70s freakiness to the Dark Shadows canon was an absolute joy, especially with a new character to play around with. Doctor Robert Harper has so far been a bit of a blank slate in the Collinsport universe which, for a writer also still relatively new to the world, gave me a glorious opportunity to cultivate him into the brooding, sceptical and tortured professor that he is today. Which proves all the more fun when he's thrown together against Carolyn's more upbeat, open and trusting persona. I hope 1:53 AM won't be the last time we hear of these two pairing up – that is, if they can make it out of that house alive…"
Dark Shadows - Shadows of the Night will be released in December 2017 at £12.99 on Download and £14.99 on CD. Watch this space for more Dark Shadows news.