We love StoriesBig Finish produce great full-cast audio drama for CD and download, featuring many popular television fantasy series.
Doctor Who: Classic Doctors, New Monsters Volume 1 - Coming Soon
2 July 2016
Four Doctors take on four new series villains in Big Finish's upcoming Doctor Who box-set...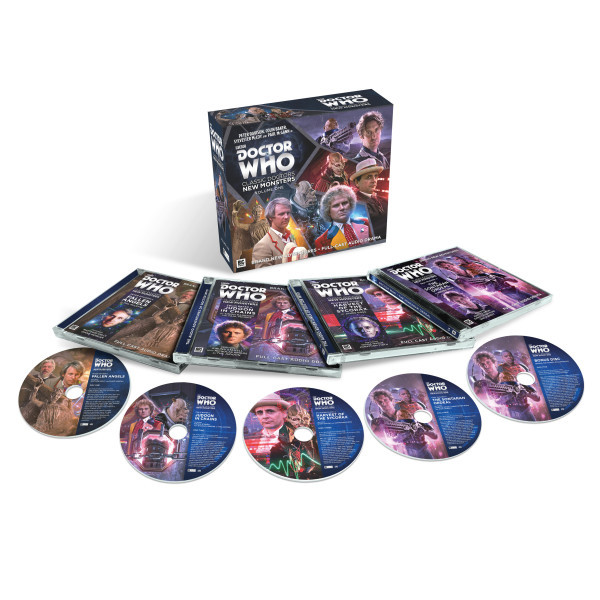 The Classic and New Series of Doctor Who come crashing together this month in a new five-disc box set. Peter Davison, Colin Baker, Sylvester McCoy and Paul McGann star in Doctor Who: Classic Doctors, New Monsters Volume 1, featuring the Weeping Angels, Judoon, Sycorax and new improved Sontarans!
Listen to the trailer below:
Doctor Who: Classic Doctors, New Monsters Volume 1 includes four new stories, beginning with Fallen Angels by Phil Mulryne; which sees Peter Davison's Fifth Doctor do battle with the most terrifying of creatures, the Weeping Angels.
'Phil's ingenious script achieves the impossible and makes a famously visual monster work brilliantly on audio,' says the set's director Barnaby Edwards. 'If you liked Blink, I think you'll like this - it's very much a chip off the old block!'
Joining the Fifth Doctor for his new adventure is Sacha Dhawan (The History Boys, An Adventure in Space and Time) and Diane Morgan (Alpha Papa, Charlie Brooker's Weekly Wipe) as Joel and Gabby Finch; honeymooning tourists who enlist the Doctor's help when they find themselves stranded in 16th Century Rome. Together they encounter Renaissance artist Michelangelo, played by Matthew Kelly (Bleak House, Relative Shadows) – whose latest statue is looking strangely familiar...
Next, Colin Baker's Sixth Doctor visits Victorian England in Judoon in Chains by Simon Barnard and Paul Morris. A Judoon Warrior has been imprisoned in Jonathan Jaggers Esq's travelling freak-show! But Captain Kybo is a Judoon with a difference...
The Rhino-headed stormtroopers will once again be voiced by the master of monsters and Big Finish Executive Producer Nicholas Briggs.
'It was such a thrill to be a Judoon or two again,' says Nick. 'It's been a while, and this time there were great challenges in this rather lovely script by Simon and Paul'.
Colin and Nicholas are joined by Trevor Cooper (Star Cops, Doctor Who: Revelation of the Daleks, Doctor Who: Robots of Sherwood) as Jonathan Jaggers Esq, Kiruna Stamell (Moulin Rouge!, Cast Offs, All the Small Things) as Eliza Jenkins, Tony Millan (Citizen Smith, Alexei Sayle's Stuff), as Justice Burrows and Nicholas Pegg (Doctor Who, The Plotters) as the Business Owner.
The third story is Harvest of the Sycorax by James Goss, which sees Sylvester McCoy's Seventh Doctor battling the Sycorax, the tribal aliens who first appeared in Russell T Davies' Doctor Who: The Christmas Invasion. The Voodoo Warriors will be led by Giles Watling (Bread, Crossroads, 'Allo 'Allo) as they attack a deep-space medical facility.
'Clever cattle, Big Finish,' says a Sycorax-obsessed James. 'I totally jumped to land this boxset. The Sycorax are a precious creation. Sylvester McCoy, oh he's a fleet and clever actor. Big Finish jak, Big Finish telpo, Big Finish faa!'
Playing hostages in the Sycorax's scheme are Jonathan Firth (Wuthering Heights, An Ideal Husband, Middlemarch) as Cadwallader, Nisha Nayar (Doctor Who: Bad Wolf/The Parting of the Ways, Doctor Who: Paradise Towers, The Story of Tracy Beaker) as Zanzibar and Rebecca Callard (The Miracle Maker, The Borrowers, Ordinary Lies) as Shadrak.
The final story is The Sontaran Ordeal by Andrew Smith. Paul McGann's Eighth Doctor do battle with his old enemies the Sontarans – but this time in a new and deadly form, ready for a War they must never take part in!
Leading the ranks of Sontar's finest will be Dan Starkey as Jask. Dan is no stranger to these fan favourite monsters, thanks to his portrayal of Strax in the television series.
'I love the Sontarans,' says producer David Richardson, 'so I relished the opportunity to tell a story with the New Series batch of the clones, who are eager to become part of the Time War, while the Doctor desperately attempts to help the innocents caught up in its devastating effects.'
Joining Dan in battle will be his Sontaran Stratagem commanding officer Christopher Ryan (The Young Ones, Absolutely Fabulous) as General Stenk, alongside Sean Connolly (Kiss Kiss Bang Bang, Jupiter Moon, The Quiet One) as Ensign Stipe. Together, they'll lead the forces of the Ninth Sontaran Battle Fleet to victory on the planet Drakkis. There, the Doctor will have to contend with Sand Serpents, Scavengers and the freedom-fighting paladin Sarana Teel – played by TV legend Josette Simon (Blake's 7, Cry Freedom, Red Lights).
You can pre-order Doctor Who: Classic Doctors, New Monsters Volume 1 today for only £20 on both CD (with free UK postage until release) and to download. With a complimentary digital copy included with all CD orders you can be one of the first to hear how the Doctors deal with their future arch-enemies when the set is released later this month.
This new release also be enjoyed as part of a money-saving bundle alongside the already available The Diary of River Song: Series 1 and Doctor Who: The Churchill Years Volume 1. Ordering today unlocks instant access to the other two box-sets
Doctor Who: Classic Doctors, New Monsters Volume 1 will be available in July from the Big Finish website and on general release from September 30th 2016.
For more titles from the New Series of Doctor Who, explore our range page here.