We love StoriesBig Finish produce great full-cast audio drama for CD and download, featuring many popular television fantasy series.
Doctor Who Magazine Poll Winners Special Offers!
25 August 2017
The results of Doctor Who Magazine's Poll are in, and we have special offers on their top-rated releases. David Tennant, anyone?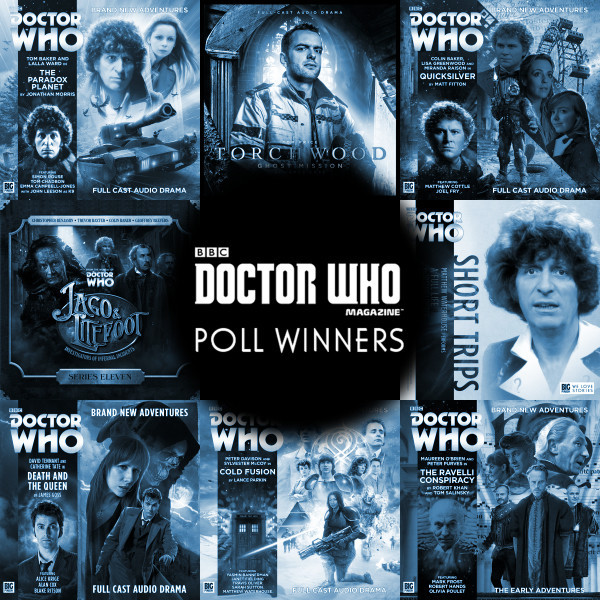 This Bank Holiday weekend, we have special offers on all the Big Finish poll winners, as revealed in Issue #516 of Doctor Who Magazine (DWM), and voted for by DWM readers! You can get all these releases at a discount until 23:59 (UK time) on 29th August.
To access the discounted prices on all of the titles listed below, click through to our special offer page (link here) and enter the code dwm2017, then add to your basket in the usual way.
Death and the Queen is by writer and producer of the Torchwood range, James Goss. David Tennant and Catherine Tate star in this Audie-nominated tale from the Tenth Doctor Adventures Volume 1.
Donna Noble has never been lucky in love.
So when, one day, her Prince does come, she is thrilled to have the wedding of all weddings to look forward to. Though the Doctor isn't holding his breath for an invitation. And her future mother-in-law is certainly not amused.
But on the big day itself, Donna finds her castle under siege from the darkest of forces, marching at the head of a skeleton army.
When it looks like even the Doctor can't save the day, what will Queen Donna do to save her people from Death itself?
Try Death and the Queen today for £6 on download or £8 on CD!
David and Catherine talk about their reunion below, seven years after starring together in Doctor Who on TV!
For fans of Classic Who, we have two tales from the Fourth Doctor's time in the Tardis! The Paradox Planet is one of the tales in the Fourth Doctor Adventures starring Tom Baker and Lalla Ward.
Whilst travelling in the vortex, the TARDIS is struck by an advanced war machine - a Time Tank! Losing Romana, the Doctor and K9 pursue the Tank to Aoris, a world quite literally at war with itself.
Soldiers from the future are attacking the past of their own planet - gathering resources and stealing endangered species. But the past is not without weapons of its own - leaving deadly devices ready to trigger many years ahead after their enemies have been born.
Trapped at opposite ends of a temporal war, the Time Lords have two time zones to save. But who is in the right, and who in the wrong? And when history itself is against you, can anybody actually win?
The Paradox Planet is available at £8 on CD or £6 on Download.
And we have one of the most popular Short Trips by writer Joe Lidster, director Lisa Bowerman, and starring Matthew Waterhouse as Adric. A Full Life is a beautiful tale, now available at just £1.50!
And for those familiar with the world of Tom Baker's Fourth Doctor, you may know Jago and Litefoot! One of Big Finish's most popular ranges, Professor George Litefoot and Henry Gordon Jago from Doctor Who TV story The Talons of Weng Chiang return in their own Big Finish series, Jago and Litefoot.
Series 11 finds Jago and Litefoot joined by the Sixth Doctor (as played by Colin Baker), and the return of one of the most evil threats in the universe, the Master.
With missing persons, dead bodies and a Satanist cult to deal with, both Litefoot and Jago need help. Professor Litefoot finds himself working with Jean Bazemore, an old archaeologist friend. Jago, however, finds he is assisted by someone he never even knew existed - his own son. Or is he? Can Jago be sure of anything?
But there is more to events than the detectives know. An alien menace is stirring underground. Once again, Jago and Litefoot find themselves fighting for their lives…
Try Jago and Litefoot series 11 for £22 on CD or £20 on download.
The Sixth Doctor is clearly a fan amongst readers of DWM, who also voted for the Doctor Who Main Range story, Quicksilver, with companions Constance Clarke, played by Miranda Raison, and Flip Jackson, played by Lisa Greenwood.
Get Quicksilver now for £10 on CD or £8 on download.
Cold Fusion was DWM's winning Novel Adaptations choice, and sees the Fifth and Seventh Doctors thrown together in this dramatisation of the 1996 Virgin Missing Adventure penned by Lance Parkin.
A newly regenerated Fifth Doctor arrives on an occupied ice planet – where the Seventh Doctor is investigating dangerous energy experiments conducted by the Earth Empire. But events spin out of control when a refugee from the distant past arrives - Patience, the Doctor's Wife!
You can buy Cold Fusion this weekend for now for just £10 on CD or £8 on download.
Fans of the Early Adventures chose The Ravelli Conspiracy, from the First Doctor's time in the TARDIS. Try this tale, starring Maureen O'Brien as Vicki and Peter Purves as Steven Taylor for £10 on CD or £8 on download!
When the TARDIS lands in a house in Florence, Italy in 1514, it isn't long before the guards of Guiliano de Medici arrest Steven and Vicki. To rescue them, the Doctor has to employ the help of the house's owner - one Niccolo Machiavelli. But can he be completely trusted?
Guiliano confesses to his brother Pope Leo X that he has angered the wealthy family of Ravelli and believes the newcomers may be part of an assassination plot. But when the Doctor arrives an already tricky situation starts to spiral out of control.
As the city rings with plot and counter-plot, betrayal and lies abound. The Doctor and his friends must use all their ingenuity if they're not to be swept away by history. This conspiracy is about to get complicated...
And for those fans of modern Who, and of a more adult nature, our Torchwood poll winner was Ghost Mission. Whilst not with a member of the Torchwood team, it just wouldn't be Torchwood without PC Andy! Gallifrey Archive gave it 9.9 out of 10!
Sergeant Andy Davidson has always wanted to join Torchwood. And now he finally gets his chance.
Under the strict observation of his Torchwood Assessor, Andy sets out to prove he's got what it takes. When a chemical spill turns out to have serious consequences, when monsters roam the Bay, and when an ancient entity awakes, Andy decides he could do with a helping hand.
The problem is his Torchwood Assessor doesn't have any hands. Norton Folgate is a ghost.
Starring Tom Price, Samuel Barnett, David Warner and Lisa Bowerman (what a cast!) get Ghost Mission for £7.50 on CD or £6 on download.
Try all these releases today! Get the DWM Poll Winners 2017 Bundle and a true taste of Big Finish for £62 on download or £75 on CD. And many thanks to Doctor Who Magazine and all its readers for their continuing support of Big Finish.
The special offers link is here, the password is dwm2017, and it ends at 23:59 (UK time) on Tuesday 29th August.