We love StoriesBig Finish produce great full-cast audio drama for CD and download, featuring many popular television fantasy series.
Doctor Who: Monster Special Offers!
8 July 2016
This weekend, save on Big Finish's original Doctor Who monsters, with discounts featuring the Eminence, the Scorchies and worse!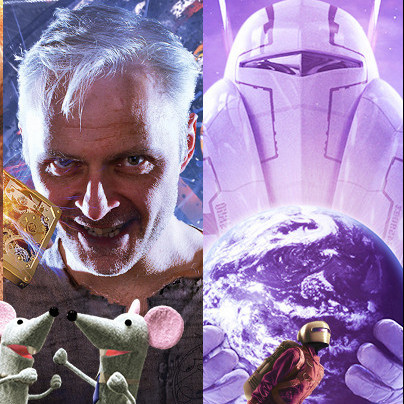 Across 17 years of audio dramas, Big Finish has been delighted to introduce new and terrifying opponents for the Doctor and his friends; and this weekend, we're highlighting their biggest invasions and deadliest schemes, with special offers featuring nine of our greatest villains!
The Eminence is a malevolent entity that has laid waste to the Universe, attacking the Earth Empire with its teleportation caskets and Infinite Warrior footsoldiers. The entire invasion can be experienced in the following titles:
The Viyrans are a race of scientists, on the trail of experimental viruses accidentally unleashed into the Vortex. The start of their quest can be enjoyed for free with Doctor Who: Mission of the Viyrans, before continuing in the following titles:
The Mim are sponge-like conquerors who have plagued the earlier incarnations of the Doctor. Get your tentacles on their full catalogue of appearances:
The Rocket Men are a band of space pirates, whose triumphant rise and fall has been chronicled across many Doctor Who adventures, including the recently released Doctor Who: The Two Masters. Experience their raids so far in the following stories:
The Scorchies are invaders who take the form of musical puppets, enslaving populations with jaunty tunes. They've faced off against many of Big Finish's heroes, including a recent encounter with Torchwood! Sing along with all their appearances:
Nobody No-One is a Word Lord from a distant dimension, whose language-based powers wreak havoc on our universe. His first meeting with the TARDIS crew in Doctor Who: The Word Lord can be downloaded for free this weekend:
The Galyari are deeply spiritual lizard-like beings, who know the Doctor as their racial enemy – the 'Sandman'. Their culture is explored across the following stories:
The dastardly Robert Knox meddles in time with his stolen TARDIS, opposing the Sixth Doctor and Evelyn at some historic locales in these two releases:
And finally, our most recent and perhaps most dreadful villain of all, The Eleven is a Time Lord criminal whose previous personalities are trapped within his head. Enjoy his encounters with the Eighth Doctor so far in our Doom Coalition box-sets:
These monstrous special offers are available until noon Monday July 11th, so order now! Bundle options for our Dark Eyes and Doom Coalition series are also available, including free UK postage and complimentary digital downloads included with CD orders.