We love StoriesBig Finish produce great full-cast audio drama for CD and download, featuring many popular television fantasy series.
Doctor Who - Warlock's Cross
13 November 2018
The end of UNIT is nigh and truth will out! In Warlock's Cross, the latest release in the Doctor Who Main Range, we'll find out what happened to the survivors of the Cyber invasion when the Seventh Doctor reunites with UNIT's scientific adviser Elizabeth Klein.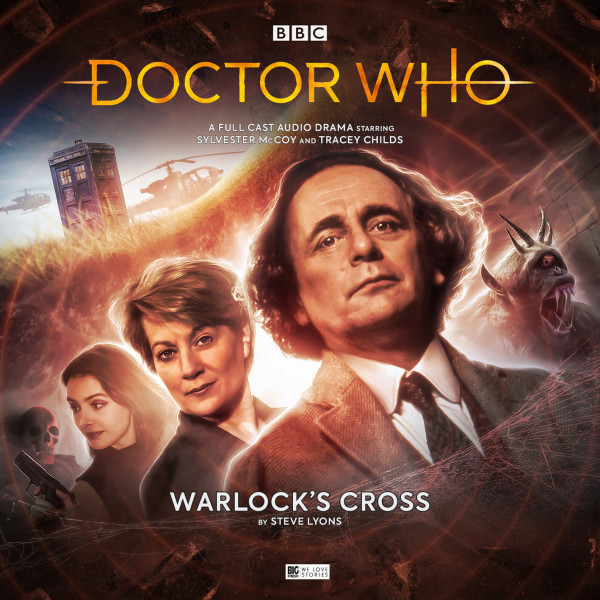 Warlock's Cross, the third part of a Main Range UNIT trilogy, is out now. In an adventure that spans across three regenerations, Warlock's Cross follows on from The Helliax Rift and Hour of the Cybermen.
Doctor Who – Warlock's Cross is available now.
It's time the truth was told. About UNIT. About the Cybermen invasion. About the so-called 'Doctor'. About what happened all those years ago, at Warlock's Cross. About the man they keep locked up in a cage, in a secret prison…
It's time. Because UNIT scientific adviser Elizabeth Klein is going to help ensure the truth is brought to light.
Today's the day… that UNIT falls.
Steve Lyons, writer of Warlock's Cross and creator of Elizabeth Klein (who was first seen in 2001's Main Range release Colditz), tells us what it was like writing for her again: "It was great to reunite with Elizabeth Klein after so long apart. But she is literally not the same character I wrote before, so I had some catching up to do – I had to work out what motivates this version of her.
"The same goes for Cyber-traitor Daniel Hopkins. Alan Barnes wanted a kind of Spooks vibe for this trilogy, with double and triple-crosses, so the Doctor will never quite know who he can trust."
Doctor Who – Warlock's Cross is available now at £14.99 on CD or £12.99 on download. All CD purchases unlock a download option via the Big Finish app and the Big Finish website.
Or you can save money by getting a subscription to the Doctor Who Main Range. When you subscribe you'll get 30% off the price, free specially recorded Short Trips stories, PDFs of the scripts, and extended downloadable extras. You can subscribe for either 6 or 12 releases.
Coming out next in the Doctor Who Main Range is Muse of Fire by Paul Magrs. The Seventh Doctor, Ace and Hex meet eccentric adventurer Iris Wildthyme in 1920s Paris. Who said Surrealism was dead?
Oooh la la! It's been a long time coming, but the Doctor is about to be reunited with Iris Wildthyme! They're both in 1920s Paris and everyone's flocking to Iris's salon.
But wait...! What's that noise..? Thud thud thud...! It's the soft, approaching feet of a small and acerbic Art Critic Panda...!
And also out for release in December, the Sixth Doctor jumps into the world of Scandi-noir in Main Range release, The Hunting Ground.
The Doctor arrives in present day Iceland and receives a frosty reception from Inspector Yrsa Kristjansdottir when he becomes the chief suspect in a murder enquiry. But the Doctor knows that the real killer is of extraterrestrial origin.
Joining forces with Yrsa, the Doctor goes in pursuit of a ruthless alien that is hunting humans for sport. Yrsa unearths a dark conspiracy which reaches back into her own past.
Determined to expose the truth and prevent further deaths, the Doctor and Yrsa soon find themselves running for their lives, prey on the hunting ground.