We love StoriesBig Finish produce great full-cast audio drama for CD and download, featuring many popular television fantasy series.
Fantastic discounts ending soon
22 February 2019
Wouldn't you like to save money on some of our stories? Yes? Then make sure you pick up our recent box sets at their bargain pre-order prices and take advantage of many more discounts at Big Finish. From new companions to well-loved (or hated) villains, there's a whole variety to choose from.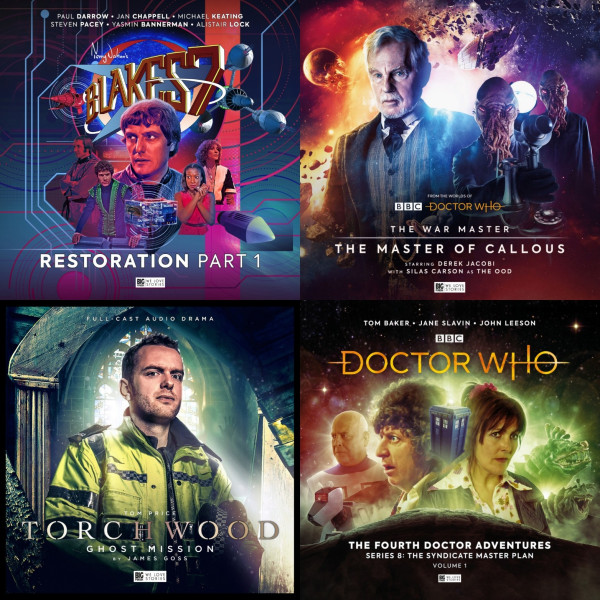 Why not save money on the brand-new four-part adventure featuring the Master's exploits in the Time War, The Master of Callous. Released in December, this huge story portrays the War Master (Derek Jacobi) at his most malevolent to date.
You can get this box set at £23 on CD or £20 on download until the end of the month, after which it will rise in price.
On the mining colony Callous, Elliot King struggles to meet the demands of its governor, Teremon. The odds are stacked against him, and his options are running low. The world that once promised dreams now offers only despair.†¨†¨
A wild Ood stalks the forests, carrying an antiquated phone. The caller promises much – he claims he can change the world – but he always speaks a devastating truth.†¨†¨
He is the Master and the Ood will obey him... but to what end?†¨
Also available at a pre-order special price is The Fourth Doctor Adventures Series 8: The Syndicate Master Plan Volume 1. The Fourth Doctor's new companion is set to make a huge impression on his life… Welcome Ann Kelso (played by Jane Slavin), a police officer in 1978 who, during the course of the strangest investigation of her career, happens upon an old battered Police Box and its eccentric occupant…
This box set of four adventures is available for just £25 on CD or £20 on download until the end of February (and don't forget you can save more money by ordering the whole of Series 8 in a bundle). †¨
Gangland thugs are trying to murder a seemingly innocent shopkeeper, and it's only the intervention of the Doctor and Ann Kelso – a WPC who happens to be on the scene – that prevents a tragedy.
The first stages of a grand conspiracy are about to be revealed. And finding the answers will take Ann Kelso on a journey like no other.
You can also save money on four brand-new full-cast Blake's 7 adventures set during the TV series' third season. Following directly on from events in the Crossfire trilogy, Blake's 7 Restoration Part 1 is available at just £28 on CD and £25 on download until the end of the month.
Damaged beyond repair, the Liberator is hurtling out of control. With Zen down, Avon injured and Tarrant losing his mind, what can the crew hope to achieve in the time they have left?
And don't forget you can get Torchwood: Ghost Mission at just £2.99 thanks to the Big Finish Book Club.
Sergeant Andy Davidson has always wanted to join Torchwood. And now he finally gets his chance. Under the strict observation of his Torchwood Assessor, Andy sets out to prove he's got what it takes. When a chemical spill turns out to have serious consequences, when monsters roam the Bay, and when an ancient entity awakes, Andy decides he could do with a helping hand.
The problem is his Torchwood Assessor doesn't have any hands. Norton Folgate is a ghost.
Head to URL https://www.bigfinish.com/offers/v/bookclub and enter access code STORIES to unlock these special offer prices. Then why not head over to sign up to our new Facebook group, The Big Finish Book Club.
On this new Facebook page we will be posting talking points to kick things off, and then at the end of the month we will host a discussion session and have good (virtual) natter. We're hoping to be able to involve some of our writers in future sessions, and you'll be able to post your questions for them about any plot points which have got you baffled. Just like a traditional book club but designed to involve our listeners all over the globe.