4.3. Blake's 7: Crossfire Part 3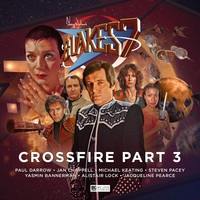 Released April


Prices
CD
US $37.46
Download
US $25.00

Web Special Price!


Synopsis
10/10 "it has in fact been an incredibly well balanced series. Each of the central players have been granted stories in which they were the focus… I can't recommend Crossfire highly enough; the sound design is perfectly pitched and the stories are compelling." Indie Mac User
⅘ "It's a strong set, and leaves listeners longing for more. Roll on our return to the Federation!" Cultbox
"Producer/Director, John Ainsworth, has done a remarkable job in putting together new material. These stories have proved enjoyable and exciting for long time fans and new listeners. The writers and crew are giving nothing short of their best and the cast, naturally, bring so much to the table. This trilogy has been stellar! Each story may be enjoyed individually or part of the grander whole, fitting into the program's timeline." Blogtor Who
This title was released in April 2018. It will be exclusively available to buy from the BF website until May 31st 2018, and on general sale after this date.
Four new brand-new full-cast Blake's 7 adventures set during the TV series' third season.
9. Ministry of Truth by Una McCormack
In a special facility, the Federation propagandists are hard at work. When first Zeera Vos, and then the Liberator crew arrive, their work is disrupted, and a traitor, it seems, has been busy in their midst.
10. Refuge by Trevor Baxendale
The Federation is in turmoil. The war is raging out of control. It's time for Avon and his crew to pick a side - but when the Liberator finds a ship full of refugees, they realise that nothing can ever be that simple…
11. Kith and Kin by Christopher Cooper
The planet Corrolos is a safe haven for ex-oligarchs and retired royalty. So why is Tarrant insistent on going there, and what was the last wish of his dead brother, Deeta?
12. Death of Empire by Steve Lyons
Servalan is Supreme Empress of the Galaxy - but the man whose throne she usurped wants it back. The final battle of the Civil War begins - and it's time for the Liberator crew to take a stand.
Written By: Una McCormack, Trevor Baxendale, Christopher Cooper, Steve Lyons
Directed By: John Ainsworth
Cast
Paul Darrow (Kerr Avon), Michael Keating (Vila Restal), Jan Chappell (Cally), Steven Pacey (Del Tarrant), Jacqueline Pearce (Servalan), Yasmin Bannerman (Dayna Mellanby), Alistair Lock (Zen/Orac), Rebecca Crankshaw (Zeera Vos), Dan March (Verner), Susie Riddell (Bowkan), Bruce Alexander (Galon), Malcolm James (Dev), Charlotte Strevens (Reeva), Peter Aubrey (Kimar), Hugh Fraser (The Former President), John Green (Mordekain). Other parts played by members of the cast.
Producer John Ainsworth
Script Editor John Ainsworth
Executive Producers Jason Haigh-Ellery and Nicholas Briggs