5.1. Blake's 7: Restoration Part 1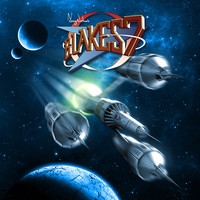 Out in January 2019
Prices
Pre-order CD
US $36.60
Pre-order Digital
US $25.00

Web Special Price!


Synopsis
Four new brand-new full-cast Blake's 7 adventures set during the TV series' third season.
5.1 Damage Control by Trevor Baxendale
5. 2 The Hunted by Iain McLaughlin
5.3 Figurehead by Scott Harrison
5.4 Abandon Ship by Steve Lyons
Story details to follow
Directed By: John Ainsworth
Cast
Paul Darrow (Kerr Avon), Michael Keating (Vila Restal), Jan Chappell (Cally), Steven Pacey (Del Tarrant), Yasmin Bannerman (Dayna Mellanby), Alistair Lock (Zen/Orac).
More cast information to follow.
Producer John Ainsworth
Script Editor John Ainsworth
Executive Producers Jason Haigh-Ellery and Nicholas Briggs