5.1. Blake's 7: Restoration Part 1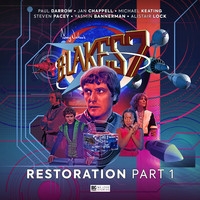 Released January


Prices
CD
US $46.09
Download
US $30.00

Web Special Price!


Synopsis
Four new brand-new full-cast Blake's 7 adventures set during the TV series' third season, following directly on from events in the Crossfire trilogy,
5.1 Damage Control by Trevor Baxendale
Damaged beyond repair, the Liberator is hurtling out of control. With Zen down, Avon injured and Tarrant losing his mind, what can the crew hope to achieve in the time they have left?
5.2 The Hunted by Iain McLaughlin
In a stolen ship, Avon and Vila try to hold off a fleet led by the President of the Federation, buying time for Dayna, Tarrant and Cally to scavenge parts to save the Liberator.
5.3 Figurehead by Scott Harrison
With the Liberator crippled and vulnerable, Tarrant and Cally are given just twenty-four hours to end the violence on Gamma Vynos II or kill the person responsible: Avalon.
5.4 Abandon Ship by Steve Lyons
The Liberator is falling apart. Its life support systems are failing. The ship can no longer sustain five crewmembers. But who will stay and who will leave? Both options seem equally deadly...
Written By: Trevor Baxendale, Iain McLaughlin, Scott Harrison, Steve Lyons
Directed By: John Ainsworth
Cast
Paul Darrow (Kerr Avon), Michael Keating (Vila Restal), Jan Chappell (Cally), Steven Pacey (Del Tarrant), Yasmin Bannerman (Dayna Mellanby), Alistair Lock (Zen/Orac), Rebecca Crankshaw (Zeera Vos), Hugh Fraser (The President), John Green (Mordekain), Harriet Collings (Kestra), Jonathan Christie (Jaryss Vull), Olivia Poulet (Avalon), Ian Brooker (Ozaban). Other parts played by members of the cast.
Producer John Ainsworth
Script Editor John Ainsworth
Executive Producers Jason Haigh-Ellery and Nicholas Briggs