We love StoriesBig Finish produce great full-cast audio drama for CD and download, featuring many popular television fantasy series.
Jago & Litefoot: Series 11 - from the Worlds of Doctor Who
28 April 2016
The Master is on the loose in Victorian London - can Jago, Litefoot and the Sixth Doctor save the city? The next release in our classic Doctor Who spin-off series is available now!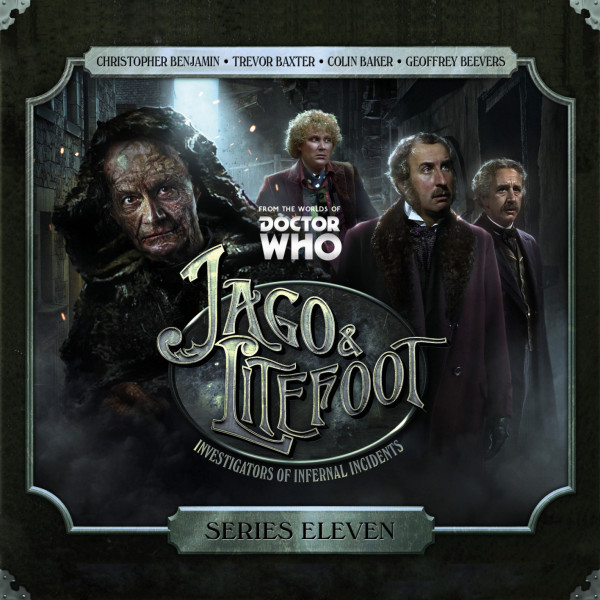 Henry Gordon Jago (Christopher Benjamin) and Professor George Litefoot (Trevor Baxter) are Victorian London's resident Infernal Investigators. Since meeting each other in Doctor Who: The Talons of Weng-Chiang, they've defended the British Empire from the paranormal and the alien, with the help of loyal barmaid Ellie Higson (Lisa Bowerman) and the dashing Inspector Quick (Conrad Asquith).
After the curious events of Jago & Litefoot: Series 10, a cloaked killer is stalking the streets; one who will do anything to survive! The Master (Geoffrey Beevers) is on the loose, and it will take all of our heroes' expertise to thwart his insidious plans. Can the Sixth Doctor (Colin Baker) offer his assistance?
11.1. Jago and Son by Nigel Fairs
With missing persons, dead bodies and a Satanist cult to deal with, both Litefoot and Jago need help. Professor Litefoot finds himself working with Jean Bazemore, an old archaeologist friend. Jago, however, finds he is assisted by someone he never even knew existed – his own son. Or is he? Can Jago be sure of anything?
But there is more to events than the detectives know. An alien menace is stirring underground. Once again, Jago and Litefoot find themselves fighting for their lives…
11.2. Maurice by Matthew Sweet
As he tightens his grip on Inspector Quick, the Master becomes interested in the young composer Maurice Ravel. For his part, Ravel befriends Professor Litefoot. But is anyone truly who they seem or able to control their own destiny and actions?
When Litefoot goes missing, it's up to Jago to investigate. But the Professor finds himself in a nightmare landscape where reality and fiction seem to have merged. Will he ever manage to escape? And if the real Maurice Ravel is trapped with Litefoot, who exactly is walking the streets of London?
11.3. The Woman in White by Simon Barnard and Paul Morris
The great actor Henry Irving is not as great as he once was. In fact, he's awful – a shadow of his former self. Worried that something may be terribly wrong, Irving's assistant Bram Stoker enlists the help of an old friend – Henry Gordon Jago.
With Irving's state deteriorating, Professor Litefoot also faces a challenge. He performs an autopsy on a man who has had all his bodily fluids drained from him. Can the detectives discover the connection between the great actor and the mysterious dehydrated corpse? And how does it relate to the Woman in White who supposedly haunts Irving's theatre?
11.4. Masterpiece by Justin Richards
The Master's plan is nearing completion – and he is sure that Jago and Litefoot will help him bring it to fruition. With Inspector Quick increasingly under the Master's influence, the Infernal Investigators find themselves tired and fatigued, as if their very life force is being drained away...
With the help of Ellie together with stage hypnotist Madame Sosostris and her assistant Mr Nocturne, Jago and Litefoot finally track down the Master. But as they make their way towards his lair, the Time Lord's true scheme is revealed.
Big Finish proudly presents Christopher Benjamin, Trevor Baxter, Lisa Bowerman, Conrad Asquith, Geoffrey Beevers, James Joyce, Rowena Cooper, Andy McKeane, Jonathan Forbes, Edward de Souza, Robbie Stevens, Maggie Ollerenshaw, Rachel Atkins and Colin Baker in Jago & Litefoot: Series 11, a five-disc box-set available to download today, exclusively from the Big Finish website.
Please note that due to an unexpected delay in manufacturing, we anticipate that CD copies of Jago & Litefoot: Series 11 will not be dispatched from the Big Finish warehouse until next week. In the meantime, the digital files for this release are now available to download for everyone who has ordered the CD version. We apologise for any inconvenience that this may cause.
Explore our entire collection of Jago & Litefoot audios today on our range page here. Ten previous box-sets are already available, with Series 12 now available to pre-order. Also featured are a number of special releases, including Jago & Litefoot & Strax; an investigative team-up with the Paternoster Gang's loyal butler Strax the Sontaran (Dan Starkey). As with the majority of Big Finish releases, CD orders also contain a complimentary digital copy – so you don't need to wait to enjoy your latest purchase!
Jago & Litefoot: Series 11 is available now from the Big Finish website. It will be released through other retailers on May 31st 2016.