For The Love Of StoriesBig Finish produce fantastic full-cast audio dramas for CD and download.
King Lear cover revealed plus chat from Lisa Bowerman
16 September 2017
With Big Finish's second Shakespeare release coming in November, we look at the cover of the greatly anticipated King Lear. Plus we chat to one of the stars of this release, Lisa Bowerman.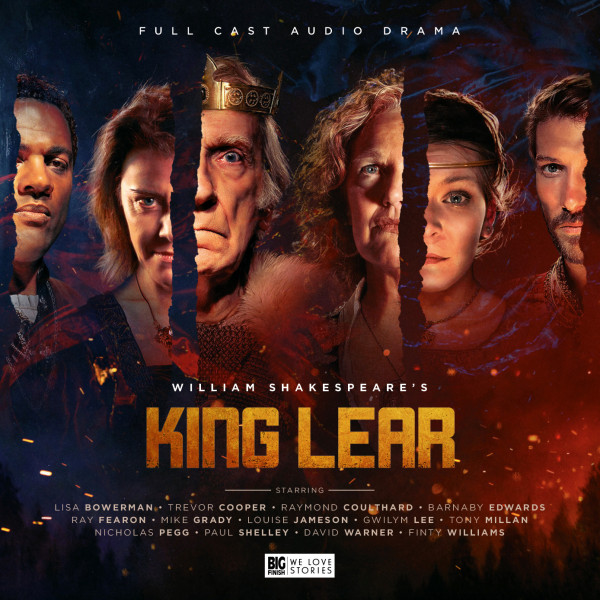 King Lear follows Hamlet (starring Alexander Vlahos) as Big Finish's next Shakespeare tale, with an even bigger cast than before including favourites such as David Warner (Titanic, Tron), Louise Jameson (Doctor Who, The Omega Factor), Lisa Bowerman (Doctor Who, Casualty), Finty Williams (Mrs Brown, Cranford), Raymond Coulthard (Hotel Babylon, The English Patient), Gwilym Lee (Midsomer Murders, Jamestown), Paul Shelley (Secret Army, Polanski's Macbeth), Tony Millan (Citizen Smith, Alexei Sayle's Stuff), Ray Fearon (Harry Potter, Beauty and the Beast), Nicholas Pegg (Doctor Who, Doc Martin), Mike Grady (Last of the Summer Wine, Citizen Smith), Trevor Cooper (Star Cops, Wizards vs. Aliens) and Barnaby Edwards (Doctor Who, Children of Men).
Today, we can reveal the cover art for this new take on the literary classic.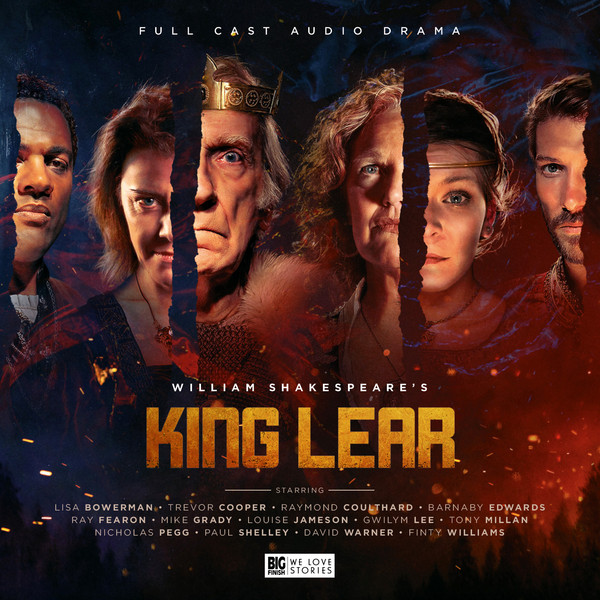 'Oh, let me not be mad…'
In an ancient Britain of warring nobles and sibling rivalries, power is a precarious thing. When the aging King Lear declares that he will divide his kingdom in three to prevent future strife, he unwittingly sets in motion a chain of events that will unravel into treachery, horror, conflict and death.
Renowned for its pathos and poetry as much as for its savage violence, Shakespeare's wildest tragedy remains as thrilling and relevant today as when it was first performed: King Lear is a tale of politics, ambition, greed, vanity, betrayal, love, pride, madness, war and bloody vengeance.
In anticipation for King Lear, Big Finish carries out its second interview with the daughters of the titular character. This month, we chat with Lisa Bowerman, who plays Regan.
Big Finish (BF): Such a pleasure to have your company, Lisa Bowerman. So, King Lear! You're playing Regan - is it pronounced like the President Reagan or Regan like Ray-gun?
Lisa Bowerman (LB): In this version, we are Regan without the A.
*BF quickly checks the site…* BF: You're right! Regan it is So, as a character who is completely different from Bernice Summerfield... or is she so different?
LB: *laughs* No she's completely different!
BF: What is it like having such a different character?
LB: It's easy to forget that the job description for an actor is pretending to be different people. Hopefully, after 33 years, my skill is pretending to be different people. So regardless of being different from Bernice, as an actor you go "Yipee! It's completely different". Your job is to look on the page, and see what kind of person they are.
And I know King Lear quite well, it's a play I'm very familiar with. I used a speech of Goneril for auditions when you were asked for a Shakespeare piece. Interestingly, in the version we (Big Finish) did, the speech almost doesn't exist. It's very different… All versions of Shakespeare are different depending on which folio you look at. Nicholas (Pegg) and the adaptors were looking at a version that would lend themselves to audio. I've seen so many productions of it, and the opportunity to play one of the sisters was a delight to snap up. And Regan is a very interesting character.
BF: How was working with Louise Jameson and Finty Williams, your 'sisters'?
LB: Finty is an absolute marvel! And Louise is extraordinarily experienced, she's done the play many times, she's played all the sisters…
BF: This is now her hat-trick actually!
LB: All the cast are so experienced, it was a joy to get down to it.
BF: Is there a bit of relish in joining the dark side?
LB: You get a lot of actors saying that the darker characters are a lot more interesting... and there's something to be said for that! With the psychology of Regan and with using Goneril for auditions.
Someone made the point to me that the sisters are all played as slightly evil, moustache-twiddling characters. But, if you've ever cared for elderly people you do have moments when your good nature is tested to the extreme - and with Lear what you have to realise is that he's not a nice man. He's not a fluffy put-upon old man, he's a self-entitled, arrogant controller and regardless of his age, there is a lot of provocation. With this darker side, the provocation goes into a whole different nature.
Lear is not about parental relations. If you know what I mean by pathetic fallacy - the term refers to using nature as a character within fiction. King Lear has nature in its fullest form, with the storms and the raging tempests being reflected in the nature of the characters. And that can definitely be used in the nature of Goneril and Regan!
BF: With nature as a character, and say, the huge storm scenes, we talked with Louise about this as well. How will that translate in audio?
LB: I think in that context audio fits perfectly. In the old days they used to rattle metal and storm drums, so it's a grander extension of that. And you can go hell for leather on audio. It'll match it perfectly, to 'crack your cheeks'. It was wonderful to hear David perform.
BF: How was it working with David Warner, on a Shakespeare, rather than as the Doctor with Bernice Summerfield in the Unbound Universe?
LB: Very different from Sapphire and Steele! This release shows you what a good actor he is. He knows exactly what he's doing, and it's not a re-creation of any performance he's done before. You cut your cloth according to your medium and David understands audio well. He knows how to change the dynamic from quiet and introspective, to shouting at a storm - it was wonderful!
BF: So now you've turned evil…
LB: Oh I've been evil before. In Whispers of Terror! (An early main range Doctor Who - only £2.99 Big Finishers!)
BF: But what would be your dream Shakespeare role?
LB: Well, any and every part of Shakespeare is wonderful. He didn't write too many parts for women but when he did he got it right.
BF: And how was the cast?
LB: Well Ray Fearon, who plays my husband in King Lear, I saw him in the RSC, playing Mark Anthony, so that was very exciting to work with him. It was a very fine cast.
Prior to its release in November, King Lear is available for pre-order at £16.99 on CD or £14.99 on download.
And to read our first interview with Louise Jameson who plays Goneril, click here -> https://www.bigfinish.com/news/v/king-lear---louise-jameson-interview