For The Love Of StoriesBig Finish produce fantastic full-cast audio dramas for CD and download.
Monsters and myths for the Third Doctor
19 October 2021
Things are getting spooky on Earth and scary in deep space in the latest two full cast Doctor Who audio adventures for the Third Doctor, released today from Big Finish Productions.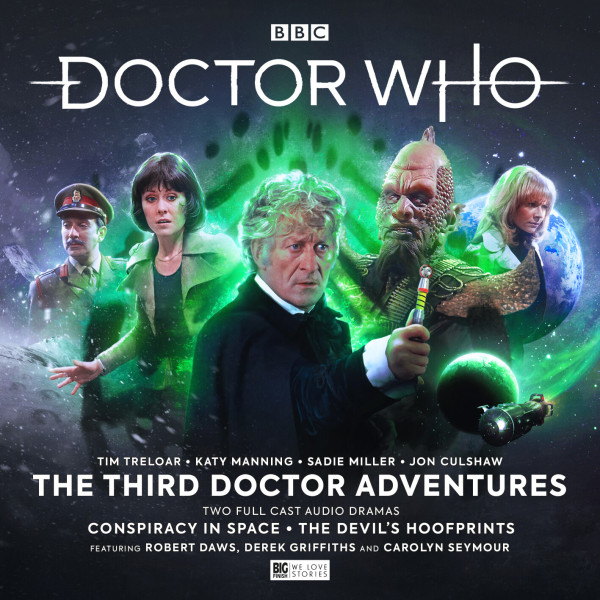 The era of the Third Doctor is in full swing at Big Finish thanks to the successful recasting of the beloved Brigadier Alistair Lethbridge-Stewart, Dr Elizabeth Shaw and Sarah Jane Smith. Jon Culshaw, Daisy Ashford and Sadie Miller have previously lent their vocal talents to Alistair, Liz and Sarah (respectively), along with Katy Manning as Jo Grant and Tim Treloar who has slipped into Jon Pertwee's smoking jackets, frilly shirts andcloaks with aplomb.
Now some of this new-old UNIT family are set to face some familiar faces and new threats in a double dose of audio excitement across two brand new four-part stories.
Doctor Who – The Third Doctor Adventures: Volume 8 is now available as a collector's edition box set (on CD at the special pre-order price of £24.99) or a digital download (also just £19.99 for a limited time), exclusively HERE.
Conspiracy in Space by Alan Barnes
When the TARDIS is diverted to Draconia, the Doctor and Jo fall foul of the hawkish Lady Zinn. War with Earth seems imminent. The Draconian military are on high alert and rumours of a super-weapon are rife.
Execution, assassination, intrigue and a mysterious faction known only as 'The Eyes' are all part of a deadly mission the Doctor and Jo have no choice but to accept. But as they fight to survive, the peace of the entire galaxy hangs in the balance.
The cast for this adventure is completed by Sam Stafford (The Box of Delights, The God of Phantoms), Imogen Church (Callan, Blake's 7), Barnaby Edwards (Doctor Who, Gallifrey), Aurora Burghart (There She Goes, Masterful) and Issy Van Randwyck (Fascinating Aïda, The Paternoster Gang).
The Devil's Hoofprints by Robert Valentine
Long ago, in Devon in 1855, a mysterious event occurred. Overnight, during a terrible blizzard, thousands of hoofprints appeared in the snow. The tracks led on for miles... and no-one ever identified out who or what caused them.
Many years later, the Doctor, Sarah and the Brigadier have come to Devon themselves, to visit a controversial scientific establishment in the wake of a mysterious death and rumours of strange occurrences in the vicinity.
But things are just about to get much, much stranger. Because they're about uncover the origins of the Devil's Hoofprints... but is this one mystery that should have remained unsolved?
And the cast is completed by Derek Griffiths (Coronation Street, Play School), Barnaby Kay (Wallander, New Tricks), Robert Daws (Poldark, The War Master), Carolyn Seymour (Survivors, Star Trek) and Nicholas Briggs as the Icewalker.
Conspiracy In Space producer Heather Challands said: "It's thrilling and I couldn't be prouder of it. We've got a great cast with some wonderful performances, and Nicholas Briggs has, once again, done a fabulous job directing and supporting me at the same time."
"And a total highlight hearing actors Katy and Tim say their words! I was home in my flat listening over the internet to these iconic actors say the lines of a script I'd commissioned. It was also the first recording day I'd run intentionally, rather than filling in for another producer or shadowing. I don't think I quite thought it was real until that happened! But Tim and Katy are so fabulous and dedicated to their roles. It was a very pleasurable couple of days."
The Devil's Hoofprints writer Robert Valentine added: "I'd wanted to write an adventure involving the Devil's Footprints mystery for years, and basing a Doctor Who story on it was an obvious thing to do. But the big highlight, really, was getting to write a Third Doctor and UNIT story incorporating real-world legends, mysterious laboratories in remote settings, colourful characters, high-speed chases and a complete heel of a villain. I had a great few weeks putting it together.
"With The Third Doctor Adventures, Big Finish does an amazing job of evoking that period of the show so one of the things I'm really looking forward to hearing is the score. I'm a writer who gets quite specific with certain music cues when it's warranted, and it's something that's very much part of my thinking during the writing process."
Doctor Who – The Third Doctor Adventures: Volume 8 is now available as a collector's edition box set (on CD at the special price of £24.99) or a digital download (at the special price of £19.99), exclusively here.
Big Finish listeners can save even more money by ordering this volume in a bundle together with Doctor Who – Third Doctor Adventures: Volume 7 from just £39.
Big Finish is currently operating a digital-first release schedule. The mail-out of collector's edition CDs may be delayed due to factors beyond our control, but all purchases of this release unlock a digital copy that can be immediately downloaded or played on the Big Finish app from the release date.