For The Love Of StoriesBig Finish produce fantastic full-cast audio dramas for CD and download.
News Updates - Week Commencing 02 May 2022
2 May 2022
Check here for this week's news and all the latest updates from Big Finish.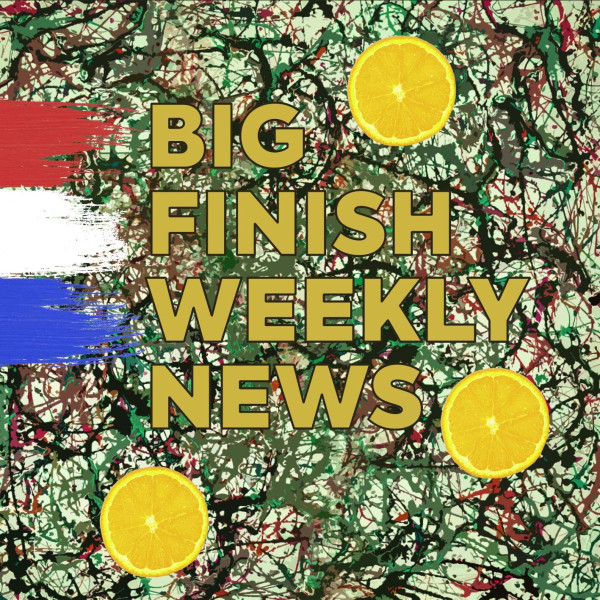 [Last updated 07 May 2022]
Sunday 01 May
◉ 31 DAYS IN MAY | Every day a different deal! Check this page for updates on the goodies up for grabs!
Monday 02 May
◉ PODCAST | The latest FREE Big Finish podcast is now live. Featuring... Nick and Benji present... Big Finish Day chat… Good Review Guide: Torchwood - Madam, I'm… Behind-the-scenes and Drama Tease: Ninth Doctor - Back to Earth… Also available: War Doctor - Only the Monstrous. Plus 25% off a randomly-selected audio adventure. Get it at the podcast page here or wherever you normally subscribe to your favourite podcasts.
◉ WEEKLY DEAL | Get up to 60% OFF selected Counter-Measures audio adventures on collector's edition CD, while stocks last. PLUS a brand-new introductory bundle discount for downloads. Deals expire 23:59 (UK time) on 08 May 2022.
◉ COVER REVEAL | Michael Troughton stars as the Second Doctor in Doctor Who - Beyond War Games, due for release in July. Claudia Gironi's beautifully painted cover is now on the website release page. Click here to pre-order as a collector's edition CD box set or download.
Tuesday 03 May
◉ BOX SET PRICE ROLLBACK | Dozens of box sets are rolled back to pre-order prices, including Doctor Who, Space: 1999, Blake's 7 and more. Click here and use the code LASTYEAR to access the deals. But hurry! Offer expires 23:59 (UK time) on 06 May 2022.
◉ THE DEAD STAR | A lethal solar body looms in the epic fourth audiobook in the Doctor Who — The Audio Novels range, written by Kate Orman and narrated by Michael Troughton. Click here to read more and pre-order for release in January 2023.
Wednesday 04 May
◉ NEW RELEASE | He's back! The Ninth Doctor's second series of audio adventures begins with three emotional stories that examine what it means to be human. During these Earthbound travels, the Time Lord also encounters a mysterious robot, faces a spine-chilling demon known as the Grimminy-Grue, and gets caught in the middle of family affairs.
Doctor Who – The Ninth Doctor Adventures: Back to Earth is now available to own as a collector's edition 4-disc CD box set (+ download for just £24.99) or on download only (for just £19.99) exclusively here.
Big Finish listeners can save money by pre-ordering all four volumes of The Ninth Doctor Adventures series two together in a bundle at £88 (on CD + download) or £78 (download only).
Doctor Who – The Ninth Doctor Adventures triple LP vinyls are strictly limited to a pressing of 1,000 per volume, and can be ordered at £35.99 each, or £132 for the bundle of all four albums, again exclusively at the Big Finish website.
◉ WATCH THE VIDEO | Check out the promo video for Doctor Who – The Ninth Doctor Adventures: Back to Earth below.
◉ WAR CHEST | Click here to listen to the brand-new trailer for this month's Torchwood adventure starring Naoko Mori as Tosh.
Thursday 05 May
◉ FIFTH DOCTOR NEWS | Details of the first audio adventure in 2023's brand-new box set of audio adventures for Peter Davison's Fifth Doctor are revealed. Click here to read more. The Fifth Doctor Adventures: Conflicts of Interest is now available to pre-order as a collector's edition CD box set (+ download for just £19.99) or digital download (for just £16.99), exclusively here.
Friday 06 May
◉ END OF LINE NEWS | Get them before they go out of print! 50 additional collector's edition CDs and box sets have now been added to the list of titles that will not be repressed once current stocks are sold.
Saturday 07 May
◉ SOCIAL MEDIA EXCLUSIVE | Watch Stephen Noonan record his first ever scene as the First Doctor, at the Big Finish YouTube channel. Don't forget to subscribe for more videos and exclusives.