For The Love Of StoriesBig Finish produce fantastic full-cast audio dramas for CD and download.
News Updates - Week Commencing 12 September 2022
12 September 2022
Check here for this week's news and all the latest updates from Big Finish.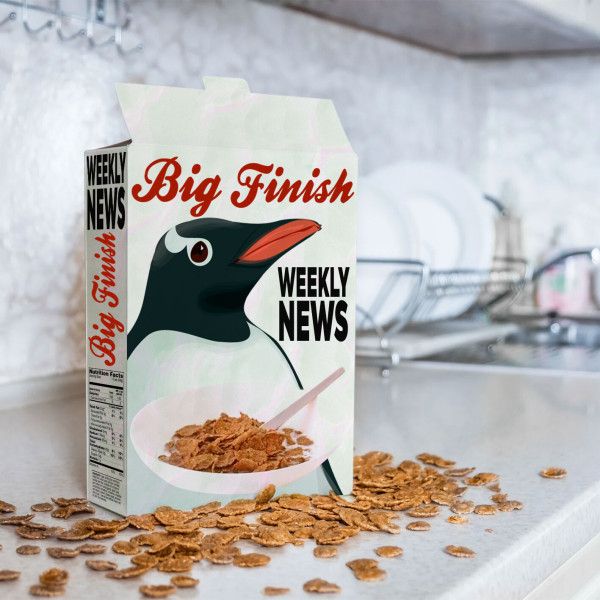 [Last updated 13 September 2022]
Out of respect for the observation of the national period of mourning in the UK, all our social media and marketing activity has been paused and will not resume until the state funeral of Her Majesty Queen Elizabeth II has taken place.
In the meantime, for all information regarding new releases, discount promotions and daily news updates, please visit the Big Finish website directly.
Monday 12 September
◉ PODCAST | The latest FREE Big Finish podcast is now live. Featuring... A preview of Thunderbirds Versus the Hood and TV21 Anything Can Happen… Behind-the-scenes: UFO… Retrospective: The Prisoner… Drama Tease: Space: 1999 Earthbound. Get it at the podcast page here or wherever you normally subscribe to your favourite podcasts.
◉ WEEKLY DEAL | Get up to 50% OFF selected Doctor Who subscriber specials on collectors edition CD, while stocks last! (Purchases made through the Big Finish website also include a digital download version.) These deals expire 23:59 (UK time) on 18 September 2022 at the latest.
◉ NEW TRAILER | The full-length audio trailer for Thunderbirds Versus the Hood is now available. Click here to listen and to pre-order the forthcoming box set as a download.
Tuesday 13 September
◉ COVER REVEAL | Story details and the cover artwork for October's Torchwood Monthly Adventure have been revealed, including a very special guest star. Click here to read the details about who will be voicing the Torchwood SUV. This story, written by Ash Darby, can also be ordered as part of a money-saving bundle of Torchwood adventures here.
◉ BREAKAWAY DAY SALE | Get up to 50% off Space: 1999 audio adventures starring Mark Bonnar and Maria Teresa Creasey. Click here to browse the deals. Offers end at 23:59 (UK time) on 23 September 2022.
◉ PRODUCTION UPDATE | Due to changes in the schedule, Thunderbirds Versus the Hood (initially planned for release in October) will now be released in September, alongside the Anderson Entertainment special release, TV Century 21 Audio Annual 2022: Anything Can Happen. The trailer for the latter has now been released here.
Wednesday 14 September
◉ NEW RELEASE | David Tennant returns as the Tenth Doctor, bringing some old friends with him in Doctor Who – Tenth Doctor, Classic Companions. This brand-new box set of three full-cast audio adventures is available to buy now on collector's edition CD and download. Read more here.
◉ SALE | Get up to 65% OFF selected Tenth Doctor releases. Click here to browse the discounted bundles. Offer ends 23:59 (UK time) on 22nd September 2022
◉ NEW DETAILS | More details have been revealed today for the next full-cast audio dramas set during an unexplored period of the Eleventh Doctor's era, between The Snowmen and The Bells of St John. Find out the full details here.
Thusrday 15 September
◉ NEWS | Three new names have recently joined the Big Finish Productions team and made their mark with terrific Torchwood adventures! Find out more about them here.
◉ NEW DETAILS | Kate Stewart's UNIT squad fights her dad's past foe in the brand-new box set, UNIT - Nemesis: Objective: Earth, due for release in November 2022. Read the new story details here.
Friday 16th September
◉ SALE | Dozens of full-cast audio drama box sets and bundles available at pre-order prices. Click here and type the code AUTUMN22 to access the deals. Offer ends 23:59 (UK time) on 21st September 2022.
◉ NEW DETAILS | The story details and cover artwork are today revealed for the brand-new The Worlds of Blake's 7 - Allies and Enemies box set of full-cast audio dramas, due for release in December 2022. Click here to read more.