For The Love Of StoriesBig Finish produce fantastic full-cast audio dramas for CD and download.
News Updates - Week Commencing 31 January 2022
31 January 2022
Check in for this week's news and updates from Big Finish.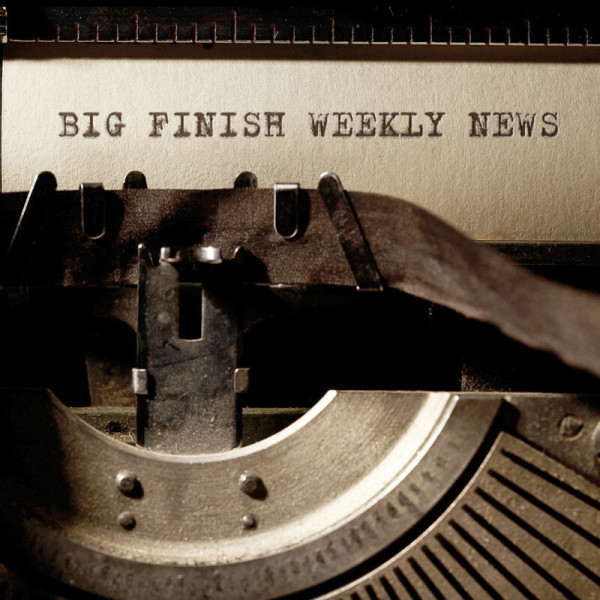 [Last edited 04 February 2022]
Monday 31 January
◉ PODCAST | Out this week, Nick and Benji present… The Chat. Covering Old Phrases… Good Review Guide: Worlds of Blake's 7: Avalon Volume 1 & Thunderbirds Terror from the Stars… Behind-the-scenes and Drama Tease: The Lone Centurion 2: Camelot and so much more! Find it here, or wherever you usually find your podcasts.
◉ WEEKLY SALE | This week only, save up to 60% on Bernice Summerfield's adventures with the Big Finish Weekly Deals. Offer ends 23:59 UK time on 06 February 2022.
◉ NEW FRIENDS! | The full cast of the upcoming Ninth Doctor Adventures box set, Old Friends, has been revealed. Joining Christopher Eccleston are Juliet Stevenson, Amanda Drew, Elinor Lawless and more. Find out about the star-studded cast here.
Tuesday 01 February
◉ FLASH SALE | Celebrate ten years of Blake's 7 at Big Finish and get The Liberator Chronicles 1 for up to 50% OFF! Offer ends 23:59 UK time on 03 February.
◉ OUT NOW | This month's Vortex is out now, including a behind-the-scenes dive into this month's adventures, including; Doctor Who: Mind of the Hodiac, The Eighth of March 2: Protectors of Time, UNIT: Nemesis 2: Agents of the Vulpreen, The Avengers: The Comic Strip Adaptations Volume 6 and much more! Download your FREE copy here.
Wednesday 02 February
◉ NEW RELEASE | Bernice Summerfield: The Slender-Fingered Cats of Bubastis is now available to own as a digital download (for just £9.99), exclusively HERE.
◉ SALE | Get up to 50% off Doctor Who Unbound audio adventures! Sale ends at 23:59 on 06 February 2022
◉ NEW DOCTOR WHO | New details about the upcoming Doctor Who Unbound adventure have been announced, starring Colin Baker, as the Doctor's decisions set about to re-write history as we know. Available to pre-order now HERE.
Thursday 03 February
◉ OUT NOW | Join The Lone Centurion, Rory Williams, as he returns in the new three-part release, Camelot. Available now as digital download or collector's edition CD box set HERE.
◉ MORE INFO! | Find out more about the cast of UNIT: Nemesis 2: Agents of the Vulpreen!
Friday 04 February
◉ END OF THE LINE! | Head HERE to find out which Big Finish titles will be going out of print on CD and will not be re-pressed once current stocks have sold. Get them before they're gone!
◉ FLASH SALE! | To celebrate its Audie nomination, get Sherlock Holmes - The Seamstress of Peckham Rye for UP TO 20% OFF! Offer ends 23:59 UK time on 07 February.
◉ PREVIEW | An excerpt of the latest The Worlds of Blake's 7 release, Bayban the Butcher: Bayban Ascending (narrated by Colin Baker), is now available to listen to.
◉ TRAILER REVEAL | The trailer for the latest Ninth Doctor Adventures story, Old Friends, has been revealed. Listen HERE.