For The Love Of StoriesBig Finish produce fantastic full-cast audio dramas for CD and download.
Out Now - Doctor Who: O Tannenbaum
22 December 2017
Out today is a festive Short Trip for the run up to Christmas, read by First Doctor companion Peter Purves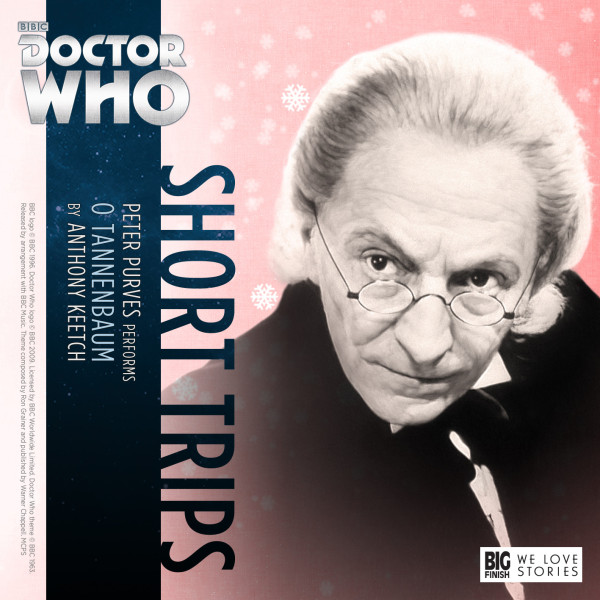 Tune in to this festive tale from the time of the First Doctor today, available at £2.99 on download (only) from Big Finish.
It's Christmas time, there's no need to be afraid…
The TARDIS has landed in a winter wonderland and the weather outside is frightful.
A world of dread and fear and it's not just the frost that is cruel…
It's Christmas Eve, but will the Doctor and Steven get to see another one?
And of all the trees in the wood, who really bears the crown?
Producer Ian Atkins tells us all about how Christmas came to Doctor Who Short Trips: "Writer Anthony Keetch's Christmas tale was one of the first commissions I made when I took on the Short Trips range and I knew I wanted a Christmas story to mark the festive period. There's something about Doctor Who which really lends itself to Christmas – though these days there's been ten years of TV episodes mining that seam too, so you have to work hard for a new idea. Tony came back with something part John Wyndham, part Doctor Who Annual, and all Peter Purves – and away we went.
"I'm always excited at working with Peter – he's enthusiastic and talented which is a great combination in a reader – and of course he was there for that first ever Doctor Who Christmas episode, so we're working with the best on this front!"
Make sure you don't miss this new adventure for £2.99 available on download (only) from Big Finish. Or you can save money with a bundle to the Short Trips range and get 12 stories for £30 a year.
Ian Atkins rounds up the 2017 releases: "I'm really proud of this year's run of Short Trips and want to thank not only those who've embraced the range so vocally, but also the actors and writers who always gave it their all, and definitely director Lisa Bowerman and the sound designers, who don't get nearly enough credit. It's been superb work, running from Tenth and Eleventh Doctors right back to a First Doctor Christmas, from traditional story readings to first-person narratives. There's lots of exciting new ones lined up for next year – and later in 2018 I'll start work on the stories to carry on beyond 2018..."
Kicking off the Short Trips range for 2018 is The Authentic Experience, a Sixth Doctor tale written by Dan Starkey and narrated by Nicola Bryant.
Tired of the old 9 to 5? The daily grind getting you down? Step this way to discover a universe of possibilities! If you're fed up with looking at screens all day, we can offer the authentic experience: whether you want to be as rich as Croesus and swim in gold, or feel the dirt and sweat of honest toil we're ready for your business. Forget the "Same Old", embrace the "New Old"!
Amongst the Short Trips releases for later next year, Jackie Tyler (Camille Codouri) tells us about a parallel universe with the MetaCrisis Doctor in releases, The Siege of Big Ben and Flight Into Hull!
And Seán Carlsen plays Time Lord Coordinator Narvin in Short Trip, Erasure. Set during the time that the Fourth Doctor was travelling with Adric, Narvin regales us with a tale from the depths of Gallifrey's history.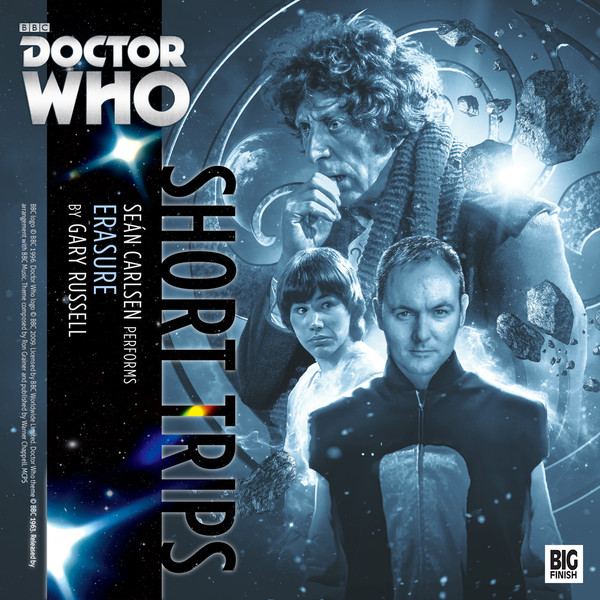 You can find the full range of Short Trips here. Make sure you don't miss out on any of these exciting tales!
Also out this month is another Third Doctor tale in the Short Trips range. Narrated by Nicholas Briggs, Landbound (the finalist in the Paul Spragg Short Trips Memorial Opportunity 2017) by Selim Ulug, tells more of what happened to the Third Doctor when he was trapped on Earth. You'll be able to get this tale for free later in the month.
He was the captain of a ship once. Since being stripped of his authority, he is lost. Landbound. Then he meets a kindred spirit, a man who has also lost something.
In a small seaside town, both Ronald Henderson and the Doctor want to move forward, but one of them must first come to terms with his past...