For The Love Of StoriesBig Finish produce fantastic full-cast audio dramas for CD and download.
Seventh Doctor - The Devil's Footprints
21 December 2018
Mel and the Seventh Doctor turn detective in this Victorian mystery - with a Doctor Who twist of course! Doctor Who - The Devil's Footprints read by Bonnie Langford, is available now at £2.99 on download (only) from Big Finish.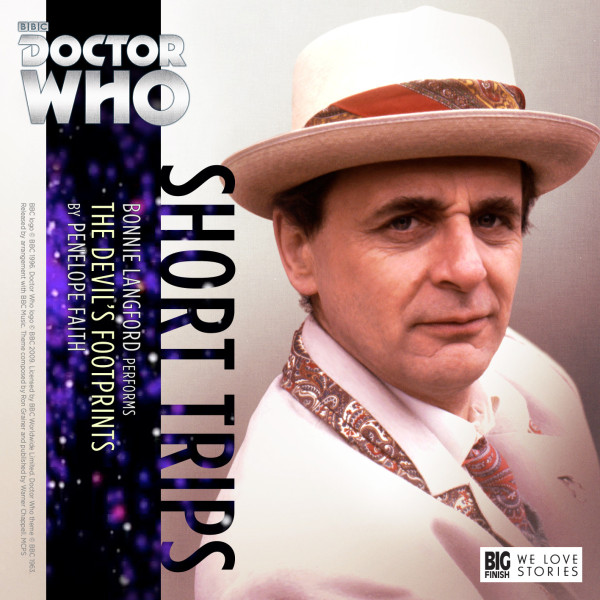 The latest Short Trip, Doctor Who – The Devil's Footprints, is out now.
The Doctor's old friend, the reverend HT Ellacombe, has been out of touch for too long. But when the Doctor goes to find him, he and Mel discover something else entirely: unidentifiable footprints in the snow around the Victorian village where he lives.
The villagers are terrified that the very Devil walks their lands in the wintry nights, but with the Doctor distracted by finding his friend, it seems it's up to Mel to do the snooping around in attempt to uncover the truth...
Writer Penelope Faith told us more about writing for Bonnie Langford, and the Short Trips range, "The Devil's Footprints is my second Short Trip for Big Finish. Producer, Ian Atkins, was very happy with my first story, Lost and Found (a Second Doctor story read by Anneke Wills) so asked me to do another one. It was he who suggested the devil's footprints as a subject matter as it had always intrigued him. This is a story that uses real event as a starting point and offers up an explanation to an unsolved mystery; a series of unidentifiable footprints appeared in the snow in 1850 around a village in Devon.
"Writing Mel was really fun as she is such a colourful, energetic character and I kept Bonnie Langford's voice in my head as I wrote which turned out to be a very helpful technique. This is one of the joys of writing for Short Trips - having to focus on one voice. It then follows that all the other characters are seen or heard through that one voice so instead of asking, 'How would the Doctor react?' you get 'How does Mel experience the Doctor?'
"It is an absolute joy to write for Big Finish. I have found the mutual respect between writers, producers, actors, directors and technicians a perfect environment to create inspiring work. The only way I can describe hearing Bonnie Langford read my story is that she made me feel like I'd got something right!"
The Devil's Footprints is available now for £2.99 on download (only) from Big Finish. Or you can save money with a bundle of the Short Trips range and get 12 stories for just £30 a year.
Later this month the winning entry in The Paul Spragg Memorial Short Trips Opportunity 2018 is being released. Out of all the fantastic stories, many congratulations again to writer Harry Draper for his Short Trip, The Last Day at Work, which will be released absolutely free for Big Finish listeners.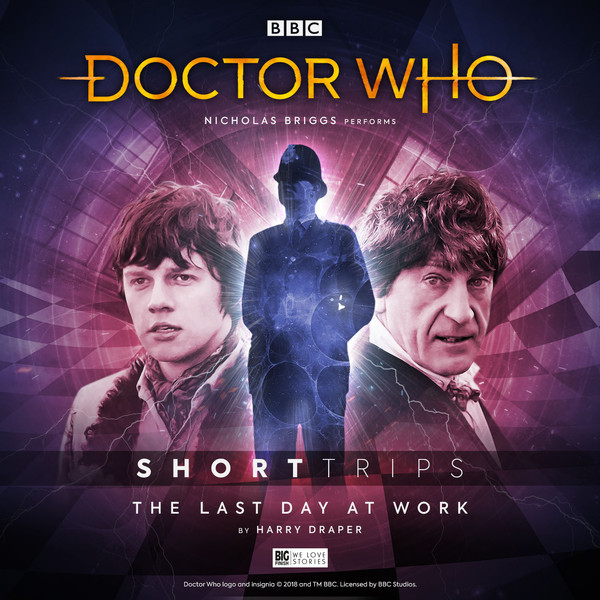 Constable Bernard Whittam is in for a special evening. Finally retiring from a lifetime in the police force, he's celebrating with friends, family and the woman he loves. It's all perfect. Apart from the noise in his head, the wheezing, groaning noise that has haunted his entire life. That and the unusual gatecrashers.
It's going to be a night to remember…
Looking ahead to 2019, why not pre-order Short Trips series 9 and 10 now? Producer Alfie Shaw who has taken over the reins from Ian Atkins, tells us more: "Short Trips is a range that succinctly showcases the inherent flexibility of the format of Doctor Who. From comedic stories to heart-breaking character studies to more action orientated pieces, and from the First Doctor to the Twelfth, there really is something for everyone! All our writers, whether returning or new, have created beautiful scripts and I'm looking forward to getting them out to the listeners.
"To tease you with what's coming up between now and December 2020, the Eleventh Doctor reunites with an old friend, there's an unsolvable conundrum for the Ninth Doctor, and the Third Doctor witnesses the impossible."
Doctor Who Short Trips series 9 and 10 are both available for pre-order now at £2.99 an episode on download. Or why not save money by ordering a year's bundle of 12 episodes on download at £30.
A huge thank you to Ian Atkins, our Short Trips producer for the last two years, you'll be missed!