We love StoriesBig Finish produce great full-cast audio drama for CD and download, featuring many popular television fantasy series.
3 February 2019
We're excavating some books from the Bernice Summerfield archive, there are two more adventures with the First Doctor, plus we celebrate Lisa Bowerman's birthday! All this and more in the Big Finish Roundup.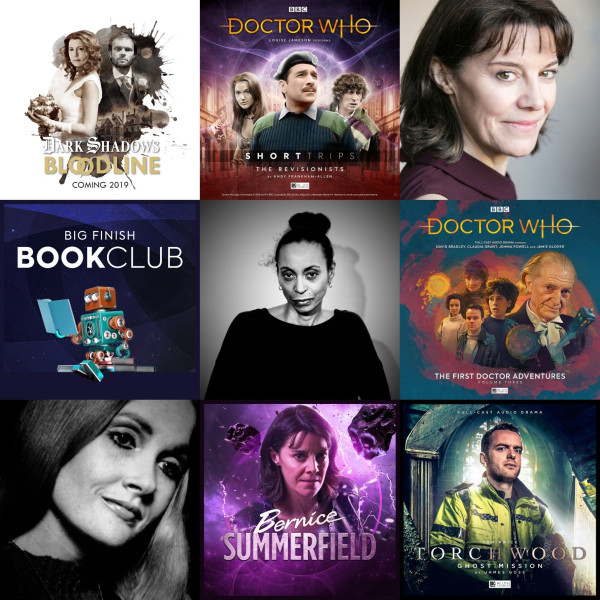 To celebrate Lisa Bowerman's birthday on Friday you can get special offers on several different releases featuring Bernice Summerfield and Lisa in other roles.
To get all of these special birthday offers, head to page https://www.bigfinish.com/offers/v/lisa19 and enter access code LISABDAY to take advantage of the offer prices.
And in more Benny news, on Monday we announced that starting this year some of our classic Bernice Summerfield books are being released on audio. Five new audiobooks narrated by Lisa Bowerman and produced by Xanna Eve Chown will be released in 2019–2020.
The first five chapters in the history of Bernice Summerfield at Big Finish are being revisited in 2019 and 2020 with the release of five new audiobook adaptations.
Read by Benny herself, Lisa Bowerman, these audiobooks will take us back to the turn of the millennium, unlocking some of the important moments of Benny's life at the Braxiatel Collection, her past love, and the birth of her son Peter.
David Bradley, Jamie Glover, Claudia Grant and Jemma Powell continue their adventures in space and time in The First Doctor Adventures Volume Three, which came out on Tuesday. There's an extra special trip in the TARDIS this time with the team crossing paths with Carole Ann Ford – the original Susan!
Doctor Who – The First Doctor Adventures Volume Three is out now.
You are cordially invited to the wedding of the year. Big Finish Productions is delighted to announce that the wedding of Amy Jennings and David Collins will be taking place this year in the new 13-part series, Dark Shadows: Bloodline.
Following on from the highly-successful Dark Shadows: Bloodlust series, Bloodline, being released in April 2019, tells the next chapter in the lives of the cursed Collins family and their friends. Following on from the previous list of attendees, we can now confirm a few more guests… Read all about it on Wednesday's news.…
The first Short Trip of the year was released on Thursday. The Revisionists is a Fourth Doctor story which features Leela meeting the Brigadier for the first time – and we can't wait to hear what happens in this clash of (very different) minds!
Doctor Who – The Revisionists is out now.
Guests at the Hôtel des Rois are being haunted by ancestors that never existed. The Brigadier was only in Geneva to finalise his retirement, but how could he resist? Investigating, the Brigadier quickly finds something unusual. A warrior in leathers. A warrior called Leela…
History is about to catch up with both of them. History that neither of them thinks is real.
We're heading to Cardiff for this month's book club selection to listen to Sergeant Andy Davidson's first encounter with Norton Folgate. Torchwood – Ghost Mission is the latest addition to the Big Finish Book Club. Plus we look ahead to Torchwood Series 6 – God Among Us 2.
First released back in May 2016, you can get Torchwood – Ghost Mission throughout this month at the bargain Big Finish Book Club price of just £2.99 on download.
Sergeant Andy Davidson has always wanted to join Torchwood. And now he finally gets his chance.
Under the strict observation of his Torchwood Assessor, Andy sets out to prove he's got what it takes. When a chemical spill turns out to have serious consequences, when monsters roam the Bay, and when an ancient entity awakes, Andy decides he could do with a helping hand. The problem is his Torchwood Assessor doesn't have any hands. Norton Folgate is a ghost.
To get Ghost Mission at the special BF Book Club price, head to www.bigfinish.com/offers/v/bookclub and enter access code STORIES.
Once purchased, why not head over and sign up for our new Facebook group, The Big Finish Book Club. We'll be posting some talking points to kick things off, and then at the end of the month we will host a discussion session and have good (virtual) natter. We're hoping to be able to involve some of our writers in future sessions, and you'll able to post your questions for them about any plot points which have got you baffled. Just like a traditional book club but designed to involve our listeners all over the globe.
And that's the news this week. Keep in the know by following us on Facebook, Twitter and Instagram.