We love StoriesBig Finish produce great full-cast audio drama for CD and download, featuring many popular television fantasy series.
The Eleventh Doctor Chronicles - Geronimo!
23 July 2018
A new set of The Doctor Chronicles is coming out this August, and we're delighted to have Jacob Dudman back in the narrator's chair for four stories from the era of the Eleventh Doctor.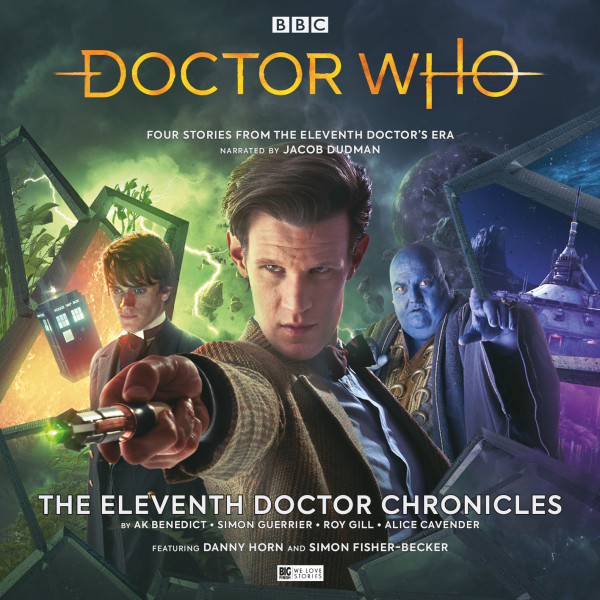 Four years ago Jacob posted a monologue from the era of the Eleventh Doctor on his YouTube channel. And now he's narrating Doctor Who adventures for Big Finish!
Producer of The Eleventh Doctor Chronicles, Scott Handcock, recalls the previous box set of tales from New Series Doctor Who: "It was a pleasure to introduce Jake as narrator on The Tenth Doctor Chronicles but, as fans of his are already well aware, Jake's ability to capture Matt Smith's unique vocal rhythms is really quite uncanny.
"Uniting him with the talents of Danny Horn and Simon Fisher-Becker as Kazran and Dorium respectively has been a treat, whilst Eleanor Brooks and Nathalie Buscombe bring a whole new energy as colonist Olivia Pamiec and the legendary Jane Austen – all under the marvellous direction of Helen Goldwyn."
Helen Goldwyn, director, tells us more: "It's been really interesting recording the Eleventh Doctor after The Tenth Doctor Chronicles. The Tenth Doctor has such a buoyant energy that the Eleventh is subtle in comparison. And of course, there's this ancient, paternal quality to him that Jake captures so brilliantly – despite the fact that he's only 20 years old. Obviously Matt Smith has a very idiosyncratic delivery and Jake has planted some beautiful examples of that throughout the set.
"We were really lucky to have Danny Horn and Simon Fisher-Becker join us from the television series. I think people have a real affection for the Kazran character; so challenged by his upbringing but trying to learn to be a good man in spite of that.
"Simon Becker-Fisher was a delight to have involved. He's such an experienced actor and his performance and characterisation have real depth and subtext. It was fun hearing the relationship develop between Dorium and the Doctor as they quickly get the measure of each other and banter accordingly! Recording day was full of anecdotes too, as you can imagine!
"Another guest was the wonderful Eleanor Crooks who I'd been wanting to work with for a while. She is a winner of the prestigious Carlton Hobbs Radio award and her voice is so distinctive. It's a shame it's audio actually as she looks extraordinary (she's over 6' tall!) and I've no doubt she'll be cast in some iconic sci-fi role on screen at some point."
In this new box set of four adventures, the Doctor has one of his annual Christmas outings with Kazran Sardick played by Danny Horn (originally in the Doctor Who Christmas TV episode, A Christmas Carol), plus he'll encounter Dorium Maldovar, the blue-skinned jovial black marketeer played by Simon Fisher-Becker, once more (although whether he'll be headless or not, you'll have to listen to it to find out!).
1. The Calendar Man by AK Benedict
Answering a cry for help, the Doctor and Amy arrive on a misty colony world – but nobody thinks anything is wrong. Nobody, except for one young woman, hiding in shadows and scribbling in her notebook.
Soon, Amy is on the trail of missing colonists, while the Doctor strides into the fog in search of a fairy-tale.
But time is running out, and the Calendar Man is flicking through the pages of their lives…
2. The Top of the Tree by Simon Guerrier
On one of their annual jaunts, young Kazran Sardick and the Doctor find themselves in trouble when the TARDIS is tangled in the branches of a very strange, very large tree.
They emerge into a habitat where myriad species fight for survival: an ecosystem of deadly flora and fauna, along with a tribe of primitive humans.
This is a mystery which can only be solved by climbing. But what will they find at the top of the tree?
3. The Light Keepers by Roy Gill
Dorium Maldovar has a problem. The self-styled 'Beacon People' are bad for business, and now they're in his shuttle park, digging for mysterious minerals.
When the Doctor crashes into his life once again, Dorium enlists him to find out what these scavengers are really up to inside their lighthouse.
But a lighthouse signals danger – and this beacon was placed to warn of something more ancient and powerful than anyone knows. Something that is returning…
4. False Coronets by Alice Cavender
On the trail of a temporal anomaly, the Doctor and Clara arrive in a London dungeon, where an unlikely prisoner awaits her execution. This is a 19th Century England where the King has been dethroned, and Republicans bearing false coronets hold sway.
While the Doctor seeks out the source of alien interference in the timelines, Clara recruits some local help – and gets invited to a party.
History has gone awry, and Jane Austen must help rewrite it.
The Eleventh Doctor Chronicles is out in August at £23 on CD or £20 on download.
Or you can save money with a bundle. Order The Tenth Doctor Chronicles, The Eleventh Doctor Chronicles (both narrated by Jacob Dudman) and The Ninth Doctor Chronicles (narrated by Nicholas Briggs) as a bundle for £55 on download or £66 on CD. Each CD purchase unlocks a download option which works with the Big Finish app and the Big Finish website.