For The Love Of StoriesBig Finish produce fantastic full-cast audio dramas for CD and download.
The Omega Factor returns...
11 April 2019
A new story penned by Natasha Gerson, daughter of The Omega Factor creator Jack Gerson, will be out in July 2019. Festival of Darkness is the latest release in a series of original fiction audiobooks set around the time of the 1979 TV show.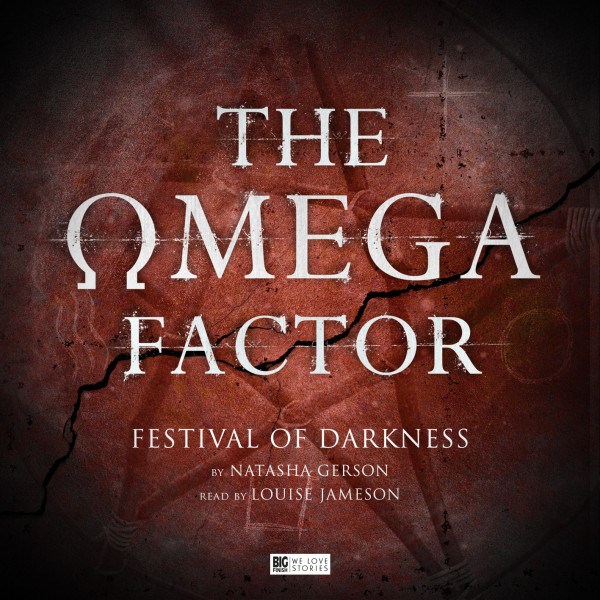 The Omega Factor is a terrifying examination into the occult. Originally produced by BBC Scotland and aired on BBC One, The Omega Factor scared viewers and attracted criticism from famed moralist Mary Whitehouse for its sheer levels of terror.
Set in Scotland, The Omega Factor starred Louise Jameson as Anne Reynolds and the late James Hazeldine as Tom Crane. Big Finish revived the series on audio in 2015 making three series set in the modern day with Louise Jameson reprising her role of Anne (now a doctor), and John Dorney playing Adam, the son of Tom.
Natasha Gerson, who also played the mysterious Morag in The Omega Factor TV series, has continued her father's legacy and written her own spooky story, Festival of Darkness. Big Finish caught up with Natasha to find out more.
Hi Natasha. What is Festival of Darkness all about?
We start with Adam Dean looking at one of his father's case files... Tom has returned to Edinburgh in late July 1979, at Anne's urgent request. He's there somewhat against his better judgement because he is meant to be taking a sabbatical, after the attacks on his physical and mental well-being that have resulted from his work at Department Seven.
Then he finds out that she wants him to watch one of the shows that is going to be performed at the upcoming Edinburgh Festival. The story which follows is mysterious and traumatic. Many lives are put in danger. There are inexplicable events which seem to mirror Adam's experience in the present day... You'll have to listen to find out more.
What gave you the idea for this story?
When I was a teenager in the 70's, a little younger than Gill (one of the characters in Festival of Darkness) I was lucky enough to take part in shows at the Edinburgh Festival Fringe. One was a student production of the ballet I mention in the story. At that time, the city and the Festival were atmospheric and thrilling and also – to me, my Father's daughter – really spooky! When we did some OB filming in Edinburgh for The Omega Factor, it reinforced these feelings. With those thoughts and memories in mind and the later development of the Big Finish audio series, I had my starting point for the novel.
How did it feel revisiting the characters in this way?
To use a giant cliché, it was like being with some old friends, and some new. I've always loved the characters from the original series, which was one of my Father's favourites. It's been brilliant to work with Louise Jameson again, and I like to think that Adam Dean, as played by the talented John Dorney, and my character Morag have a sort of genuine psychic connection. I loved the late James Hazeldine as Tom Crane in the 1979 episodes and was a little in awe of John Carlisle as Martindale. He teased me rotten! Cyril Luckham, who played my boss Drexel, is also sadly no longer with us. He was a great pal and mentor.
Other, newer characters are a mixture of fiction and reality. The interesting thing is, as soon as I found myself really involved with the story, I felt a kinship with all of them even the villains. I wonder what that says about me?
I've heard that you had some 'Omega Factor' kind of things happen while you were writing this book. Can you tell me about them?
Do you mean apart from feeling that my late Father was helping me? Frankly, I believe that he did. Perhaps on the astral plane, perhaps not. There were a few strange incidents during the writing of the book. One in particular related to one of the new main characters of my own imagination. One day, I was absolutely stuck. I'd just introduced this character and I didn't have a clue what to do with her. She needed something, a background, some solidity, a reason... After an hour or so of classic displacement activity, a name came into my head. It was Aleister Crowley, who was a source of fascination and repulsion for my father. I googled him and another name came up. That very interesting someone was the cure for my writer's block. She fitted the bill perfectly. Coincidence, or something more? Definitely odd. Who can be sure?
There were other incidences. I'm a Glasgow girl and the action is set in Edinburgh, the Edinburgh of forty years ago. On more than one occasion, a location or building exactly matched the action or progression I had in mind before I had the chance to research and confirm it. It might be a restaurant, a hospital building or the architecture in a street. Other ideas for characterisation and consequential justifications for actions seemed to fall into my lap. Serendipity, or something more mysterious? I like to think it was the latter. So would my Dad!
What is it about The Omega Factor that makes it so loved and well-remembered?
The series had an impact because it wasn't just an ordinary thriller. It also contained timeless elements of the supernatural, extra-sensory perception and science-fiction, with echoes of the work of MR James, Algernon Blackwood and one of my maternal relatives, RL Stevenson. It couldn't fail to fascinate, or even shock, as evidenced by Mary Whitehouse's reaction. She thought it 'thoroughly evil.' I still love that!
And for you, of course, it's been more of a positive experience than an evil one!
Apart from the original series being one of my first and favourite jobs, Big Finish's revival came just at the right time. My father had died and I was grieving. Then I was given the opportunity to participate in what was also one of his favourite creations. I like to think he would have approved!
The first episode of the original series: 'The Undiscovered Country,' was broadcast at 8.10pm on Wednesday 13th June 1979. My Dad was 50 at the time. Had he lived until now, he would have been 90. I love working with the wonderful Big Finish team including David Richardson, Ken Bentley, Matt Fitton and, of course, the book's wonderful editor, Xanna Chown. I hope we do more 'Omega Factor.' I feel we've still further 'Undiscovered Country' to explore!
Festival of Darkness is available to pre-order now at £9.99 on download ahead of its release in July 2019.
And if you're new to the world of The Omega Factor you can download episode 1 of Series 1 for free here.