The Omega Factor: From Beyond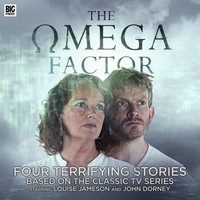 Released April 2017
Prices
Download
US $0.00

Web Special Price!

Synopsis
(This episode is available as an exclusive download to subscribers of the Big Finish newsletter, marking April 2017's release of The Omega Factor Series 2)
More than thirty years have passed since Tom Crane left Department 7, a top secret organisation that investigates the paranormal.
Anne Reynolds now runs the operation, and for three decades their enigmatic nemesis Omega has been silent.
But that peace is about to be shattered. When Crane's son Adam is drawn into Department 7, the past quickly catches up with Anne and her team…
1.1: From Beyond by Matt Fitton
Dr Anne Reynolds finds her life's work under threat as Department 7 faces review. Is there really any place for paranormal investigation in government? Help arrives from an unlikely source, as a young man comes to Edinburgh looking for answers. Adam Dean holds a connection to Anne's past, which will open the doors of perception and take them down a new and disturbing path...
Written By: Matt Fitton
Directed By: Ken Bentley
Cast
Louise Jameson (Anne Reynolds/Demon), John Dorney (Adam Dean), Alan Cox (James Doyle), Sandra Voe (Mary McConnell), Natasha Gerson (Morag), Tracy Wiles (Reverend Lucy Douglas), Terry Molloy (Malcolm McConnell). Other parts played by members of the cast.
Producer David Richardson
Script Editor Matt Fitton
Executive Producers Jason Haigh-Ellery and Nicholas Briggs