2. The Omega Factor Series 02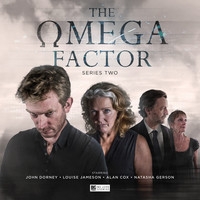 Released April


Prices
CD
US $39.08
Download
US $25.00

Web Special Price!


Synopsis
'The second box set is even better... Dorney and Jameson's acting, Steve Foxon's sound design... and Nick Briggs' music score made for some extremely disturbing moments.' Paul Simpson SFB
'The Omega Factor excels thanks to a combination of smart scripts and a pair of engaging lead actors...' Indie Mac User
'This new set has a really good time telling these stories and continuing the stories of this cult classic. Long may they continue...' Blogtor Who
'Big Finish have hit the proverbial home run with this set, it has everything and stayed with me - in fact I still can't stop thinking about it. Fantastic scripting, superb sound design and two incredible leads in Louise Jameson and John Dorney make it a resounding success and a 10/10 from me.' Planet Mondas
'Built on a bedrock of solid old fashioned story-telling... The Omega Factor Series Two is also gifted by a brace of absolutely magnificent performances from John Dorney, Louise Jameson, Alan Cox, Natasha Gerson, Alan Francis and Alex Tregear that lift it beyond the realm of jaw dropping into a whole new dimension of excellence' Tim Cundle Mass Movement
Over thirty years have passed since Tom Crane left Department 7, a top secret organisation that investigates the paranormal.
Anne Reynolds now runs the operation, and for three decades their enigmatic nemesis Omega has been silent.
But that peace is about to be shattered. When Crane's son Adam is drawn into Department 7, the past quickly catches up with Anne and her team…
2.1 Somnum Sempiternum by Phil Mulryne
When a series of impossible suicides affect the establishment, Doyle calls in Department 7 to investigate. From the scene of a grisly death, Adam and Anne discover a trail that eventually leads to someone they've met before, once again running dangerous psychic experiments.
Dr Jane Wyatt is back, with an even more lethal agenda. But someone else is pulling her strings...
2.2 The Changeling by Roy Gill
Adam takes on a risky assignment, going undercover inside Tollmire Prison as a murderer's cellmate. But when the lights go out in these corridors, something else lurks in the darkness. Something that kills.
As Anne tries to unlock decades-old secrets, she discovers that some who believe in the folklore of faeries and changelings will take their faith to terrible extremes.
2.3 Let the Angel Tell Thee by Louise Jameson
Life has rarely been so kind to Anne Reynolds. Her work has gained new impetus as she investigates a psychic prodigy. And she has gained an admirer in the shape of a charming and debonair London official. But Adam is plagued, first by wasps, and then by warnings of disaster from a familiar voice.
Who is the ghost that's really haunting both their lives?
2.4 Awakening by Matt Fitton
An intricate scheme, forty years in the planning, is reaching completion. When a devastating event affects the staff of Department 7, the final pieces fall into place.
Can Anne convince Doyle that the threat from Omega is real? Where is Morag? And can anyone reach Adam in time to save him from the powers that defeated his father?
Written By: Phil Mulryne, Roy Gill, Louise Jameson, Matt Fitton
Directed By: Ken Bentley
Cast
Louise Jameson (Dr Anne Reynolds), John Dorney (Adam Dean), Natasha Gerson (Morag), Camilla Power (Dr Jane Wyatt), Alex Tregear (Kate), Alan Cox (James Doyle), Richenda Carey (Sarah Maitland), Gunnar Cauthery (Edward Milton), Hugh Fraser (Anthony Archer), Alan Francis (Alasdair Reiver), Ben Fox (Graham Stocker). Other roles performed by the cast.
Producer David Richardson
Script Editor Matt Fitton
Executive Producers Jason Haigh-Ellery and Nicholas Briggs