For The Love Of StoriesBig Finish produce fantastic full-cast audio dramas for CD and download.
The Western Front and Final Frontier for the Fifth Doctor
5 April 2023
The Fifth Doctor returns for two more adventures – in space and on Earth – as a brand-new full- cast audio drama box set is released today from Big Finish Productions.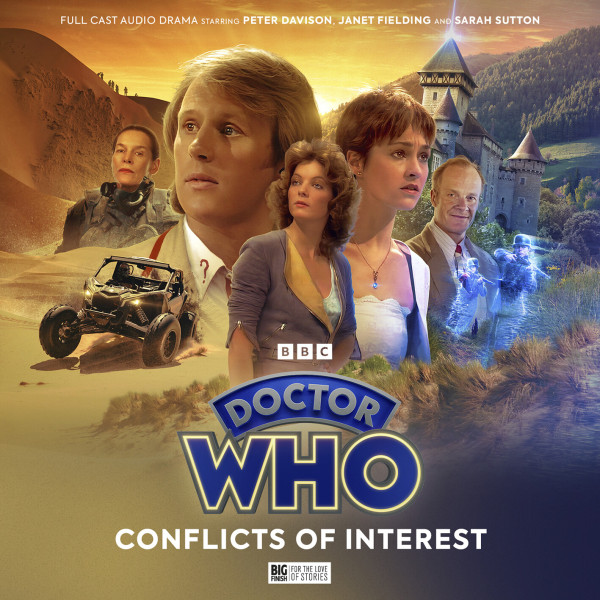 Peter Davison (the Doctor) stars alongside Janet Fielding (Tegan), Sarah Sutton (Nyssa) in Doctor Who – The Fifth Doctor Adventures: Conflicts of Interest.
Joining them in major guest roles are two acting titans; Olivier Award-winning actor Alice Krige (The OA, Star Trek) lends her voice to vengeful space marshal Reno in Friendly Fire, by John Dorney; and the familiar tones of Alistair Petrie (Sex Education, Deep Heat, Rogue One) appear in The Edge of the War, by Jonathan Barnes.
In the far future and the recent past, the Doctor, Nyssa and Tegan discover that humans can be monsters too.
Alongside these two three-part stories the box set also features an exclusive bonus download of Gobbledegook – an hour-long audiobook adventure narrated by Dan Starkey, featuring special music and effects.
Peter Davison said: "I'm just always in a constant state of amazement the Fifth Doctor still has young fans. It's very good for one's ego, yet it's been more than 40 years. I get very, very depressed because I didn't realise it was that long. How is that possible? Am I really that old? Yes, I am. But I'm very happy to still be here."
Doctor Who – The Fifth Doctor Adventures: Conflicts of Interest is now available to own as a collector's edition 3-disc CD box set (+ download for just £19.99) or digital download (for just £16.99), exclusively here.
Friendly Fire by John Dorney
When the TARDIS needs to reset itself, the Doctor, Nyssa and Tegan find themselves having to fill time on a space-hub filled with numerous attractions. This pleases Tegan and Nyssa no end... but the Doctor is more interested in visiting an alien friend of his living on a nearby mining planet and is able to persuade his friends to join him.
But on arrival his friend is nowhere to be found and the locals are more than slightly unwelcoming. With limited options for departure and a hostile populace they may be in a lot of trouble.
Sometimes true monsters are found in the strangest places.
Janet Fielding said: "This story reminded me of a Western in space (which of course was how Gene Roddenberry originally envisaged Star Trek). It's also a bit like Bad Day at Black Rock. The theme is very much 'How do you do the right thing in a difficult situation?' Who is the guilty party? Who is involved, and how?"
The Edge of the War by Jonathan Barnes
France in the summer of 1936. The village of Villy is in a state of contentment, tinged only slightly with unease. A kilometre away, construction is underway on a large underground fortification, part of the Maginot Line project which has seen the building of a series of defences against future invasion.
A young artist has arrived in the village to paint the landscape. Her name is Nyssa and she has taken a room in the local inn, run in its owner's absence by a young Australian woman called Tegan. But she's not the only newcomer. A detective called the Doctor has just got in from Paris. And he has quite a mystery to solve...
Sarah Sutton said: "Tegan and Nyssa don't have much time together at all in this story and even the Doctor doesn't appear for quite a long time. In fact, Nyssa only arrives a few hours before it all kicks off. And then we're all given new jobs. It's quite funny. I like this story a lot."
Gobbledegook by Frazer Lee
Chief librarian Velar's beloved books are being returned with their text completely garbled at planet Batear's largest library. Batearian books are living things, organically linked via the ancient cave system where they are shelved. Unless Velar's old friend the Doctor can detect a pattern in the chaos, Batear's entire cultural history will become gobbledegook!
Writer Frazer Lee said: "If you could tell the starstruck kid who watched Tom Baker regenerate into Peter Davison that he'd someday write a Doctor Who adventure, I honestly doubt he'd believe you! I had to have a cup of tea and a sit down while the news sank in, and then of course I started thinking of a trillion story ideas..."
Big Finish listeners can save money by purchasing Conflicts of Interest and the September 2023 Fifth Doctor box set, In the Night, together in a bundle for just £38 (collector's edition CD box set + download) or £33 (download only).
Alternatively, these titles can be bought as part of a 14-release Classic Doctors bundle for just £274 (collector's edition CD box set + download) or £237 (download only). A 12-release bundle is also available to purchase from just £198 (download only).
All the above prices include the special pre-order discount and are subject to change after general release.
Please note that Big Finish is currently operating a digital-first release schedule. The mailout of collector's edition CDs will be delayed, but all purchases of this release unlock a digital copy that can be immediately downloaded or played on the Big Finish app from the release date.