For The Love Of StoriesBig Finish produce fantastic full-cast audio dramas for CD and download.
13 February 2016
Catch up on all the latest news and previews from the worlds of Big Finish.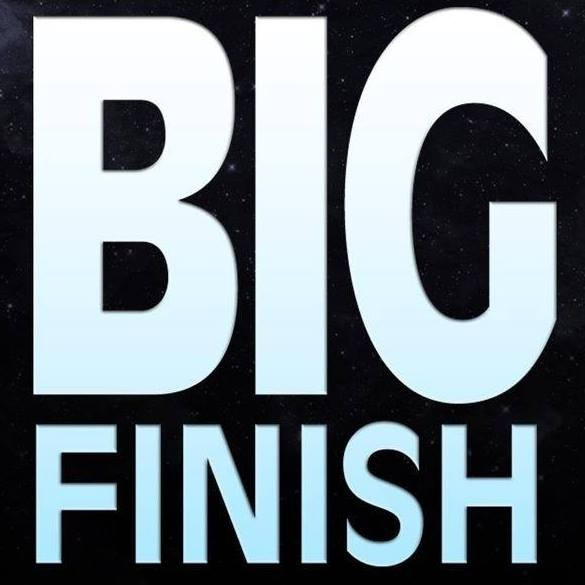 By now the news is out there that a Big Finish legend has been back in studio – Sheridan Smith is returning to the Doctor Who universe as Lucie Miller in two brand new Doctor Who Short Trips releases!
Doctor Who: The Curse of the Fugue by Alice Cavender is available from April and sees Lucie and the Doctor enter into events at an old people's home during Britain's Winter of Discontent. A second story, Doctor Who: Flashpoint by Andrew Smith will be released in 2017. Each story will be available for just £2.99 each – while both the 2016 and 2017 runs can be subscribed to at an additional saving!
You can hear Sheridan speak about her return to the role for the first time since 2011's Doctor Who: To The Death in a brand new Big Finish Podcast – listen via the SoundCloud player below:
From one leading lady to another – we've also been delighted to announce the return of Indira Varma to the world of Torchwood. Indira reprises her role as Suzie Costello in Torchwood: Moving Targets by Guy Adams, where Suzie will be pitted against a horde of alien hunters on the streets of Cardiff. You can pre-order this June release today, or subscribe to all six release from Torchwood Series 2.
And speaking of Torchwood – this week has seen an all-new era forged for the defenders of Cardiff in Torchwood: More Than This – the series finale to Torchwood Series 1! Also written by Guy Adams, the story sees Gwen Cooper (Eve Myles) fight to rebuild Torchwood Three – even if that means crossing council planning officer Roger Pugh (Richard Nichols). With a special appearance by Sgt. Andy (Tom Price) and a cameo from a Torchwood legend, you can download this new release today – or pick up the entire Series 1 as part of a special bundle. Listen to the trailer below:
Gwen isn't the only hero battling creatures from another world – as seen in our download exclusive of Carnacki the Ghost Finder. Starring Dan Starkey and Joseph Kloska, this new release contains performances of six classic stories by William Hope Hodgson, and is a treat for anyone who's a fan of other Big Finish ranges, such as Jago & Litefoot, Sherlock Holmes and The Confessions of Dorian Gray. Download your copy today for just £18 and hear a preview below:
There are more epic adventures ahead of us this year – including the thrilling conclusion to Blake's 7: The Liberator Chronicles. The final two titles from April's Volume 12 have been revealed as Capital and Punishment, both by Guy Adams. This two part story will see Tarrant (Michael Pacey) and Vila (Michael Keating) face the return of the Armageddon Storm – a Federation super-weapon which first appeared in Blake's 7: The Liberator Chronicles Volume 3. What's more, Vila will also be forced to deal with his estranged father Tavac – played by national treasure David Warner (who first played the character in Blake's 7: The Liberator Chronicles Volume 9).
You can pre-order this highly-anticipated box-set today – and Blake's 7 fans will also be interested in our upcoming audiobook release! You're Him, Aren't You is a brand new reading by Paul Darrow of his 2006 biography – complete with an extra chapter written especially for this release! Available from August, you can pre-order the set today along with the original book as part of a special bundle!
And finally, one piece of news we know you've all been waiting for – Monday February 22nd will see the return of John Hurt as the War Doctor! Doctor Who – The War Doctor 2: Infernal Devices will be available to download in just over a week's time, exclusively to the Big Finish website – promising deadly Daleks, Time Lord trickery and a devastating super-weapon that will change Time forever! Listen to the trailer below:
Featuring an all-star cast, including John Hurt, Jacqueline Pearce, David Warner, Jamie Newall, Zoë Tapper, Robert Hands, Oliver Dimsdale, Laura Harding, Barnaby Kay, Jaye Griffiths, Tim Bentinck, Tracy Wiles and Nicholas Briggs, Doctor Who – The War Doctor 2: Infernal Devices is available to pre-order today. You can order this release separately, or as part of the Time War Saga bundle.
This bundle contains all four box sets from the War Doctor series, along with the five-disc prequel Doctor Who - The Eighth Doctor: The Time War starring Paul McGann. And remember, when you choose to buy this release on CD directly from Big Finish, you will also unlock instant access to a digital copy for download.
The Time War may be a week away – but join us soon for plenty more adventures in the Doctor Who Universe, including the release of Doctor Who: Aquitaine and Doctor Who: The Labyrinth of Buda Castle. Pre-order your copies today!
Don't forget, there are still plenty of Doctor Who adventures to enjoy with our special offer on the Main Range. Releases #51 to #100 are available until noon Tuesday February 16th (UK time) for just £5 each! Click here to explore the entire range of titles, or check out some of the Big Finish team's recommendations here.
But it's not just the past you can save on – as for the third and final time, we're offering our Doctor Who Super Subscription – allowing you to pre-order 42 of the Doctor's upcoming Main Range adventures, covering titles all the way to 2020!
Until February 16th you can purchase the Doctor Who Super Subscription for £350 on CD or £325 to download, a saving of £200 against buying individually. Subscriptions can begin at any point between releases 216 (September '16) and 221 (January '17). As a subscriber to Big Finish's monthly Doctor Who Main Range you will receive exclusive extras, including PDF scripts of each release, extended behind-the-scenes features, and four unique Short Trip readings every year.
That's all for this week, but don't forget, our February Listeners title Doctor Who: The Feast of Axos is available to download now for just £2.99. There's also still a chance to win a day in the Big Finish studio during recording of The Prisoner: Volume 2 with our brilliant competition – see here for full details and get your entry in before the closing date of Tuesday February 23rd.