For The Love Of StoriesBig Finish produce fantastic full-cast audio dramas for CD and download.
Torchwood: God Among Us continues
20 February 2019
It's the end of the world, and it's starting in Cardiff! The Torchwood team have four new missions: when a god comes to Cardiff the world truly goes to Hell†¦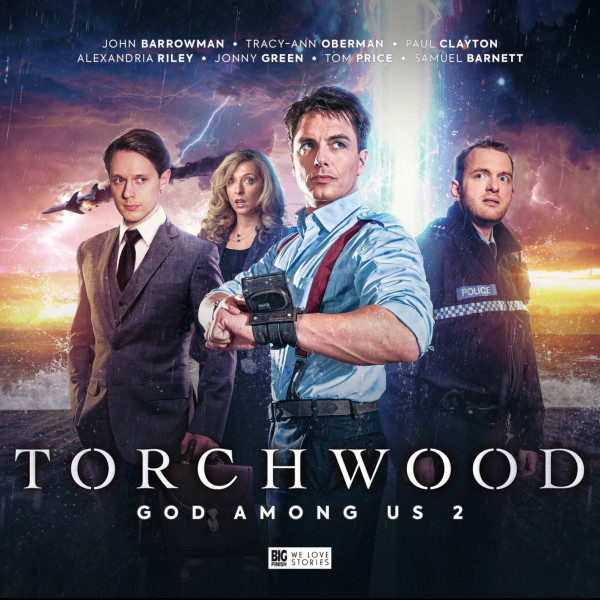 God Among Us 2, the second part of Torchwood series six, has been released today.
Norton Folgate's come from the 1950s to warn Torchwood it's the end of the world. He might have a point – there's an alien god wandering the city, and a sinister force manipulating events behind the scenes. Where are all the homeless people going? And why doesn't it stop raining?
6.5 Flight 405 by Lou Morgan
Flight 405 went missing over 60 years ago, but tonight the plane finally lands. Norton Folgate's a Torchwood agent from the 1950 and he swears Flight 405 contains the secret to the end of the world, but can Torchwood trust him?
6.6 Hostile Environment by Ash Darby
An app's been launched that allows you to tag the homeless. People thinks they're doing a good thing and helping out. It does seem a remarkable success. After all, since it's launched, there are a lot less homeless people on the streets – so it must be doing some good, mustn't it?
6.7 Another Man's Shoes by Tim Foley
Yvonne wakes up in Andy's body – and both have difficult days ahead of them. Meanwhile, Norton's making himself very much at home in Tyler's body, much to Tyler's alarm, and Ng is worried she knows what's going on. Someone's playing a terrible trick on Torchwood. But who will win?
6.8 Eye of the Storm by David Llewellyn
As Torchwood set out on a desperate mission, God takes tea with someone who has been playing a very long game. Has the time come for Norton Folgate to save the world?
Producer James Goss revealed more in last month's Vortex magazine: "The second box set, God Among Us 2, sees the effects of having a god living in Cardiff become clearer as the city edges closer to disaster. Just to prove the point, Norton Folgate, a Torchwood agent from the 1950s, has turned up telling them the world is going to end. As Jack and Yvonne try to work out what that means, we see desperation spreading on the streets."
Torchwood: God Among Us 2 is available now at £25 on download or £28 on CD. God Among Us 1 was released in October 2018 and is available at £35 on CD or £30 on download. God Among Us 3 will complete the season in June 2019 and can be pre-ordered at £25 on download or £28 on CD.
Or why not save money in a specially-priced Torchwood series six bundle at £60 on download or £75 on CD – all three parts will be available after their individual release. Each CD purchase unlocks a download exclusive via the Big Finish website or the Big Finish app.
And there's plenty more Torchwood to come in 2019 with the first four adventures of the monthly range commencing in the spring. The Torchwood team will be battling against monsters and villains from the worlds of Doctor Who, starting with Gwen Cooper (Eve Myles) versus the Fendahl in Night of the Fendahl.
And if you've yet to meet Norton Folgate, don't forget you can get his first adventure with Andy Davidson in Torchwood: Ghost Mission, available at just £2.99 thanks to the Big Finish Book Club.
Head to www.bigfinish.com/offers/v/bookclub and enter access code STORIES to get Ghost Mission at this bargain price.