We love StoriesBig Finish produce great full-cast audio drama for CD and download, featuring many popular television fantasy series.
29 March 2019
Details of the next four adventures in the Torchwood monthly range can now be revealed. Out for release from July onwards: Gwen drinks for the survival of Wales; Jack and Ianto are settling into suburban bliss; there's another assignment for Owen and Andy opposite a Dame; and we learn who joined Torchwood the same time as Tosh.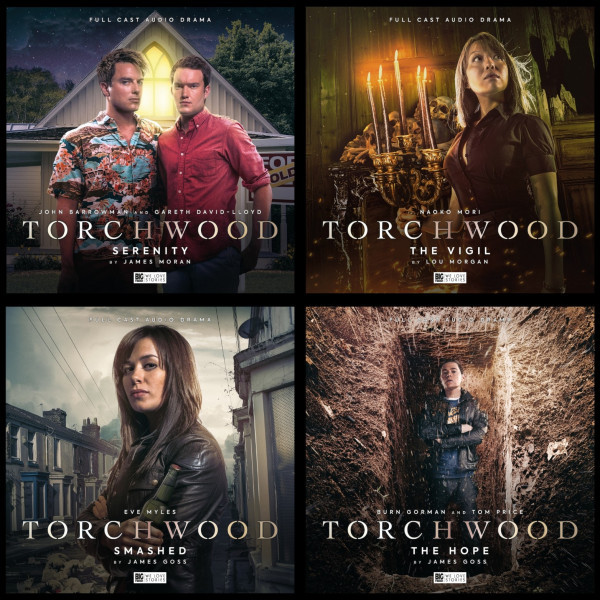 Not content with dealing with Doctor Who monsters, there are even more alien threats for the Torchwood team to face. Today Big Finish can reveal the details of the next four adventures in the Torchwood monthly range. Set throughout the time period of the television series and beyond, we'll be uncovering more secrets from the Torchwood archive.
It looks like a dream come true for Captain Jack (John Barrowman) and Ianto (Gareth David-Lloyd) in Serenity by James Moran.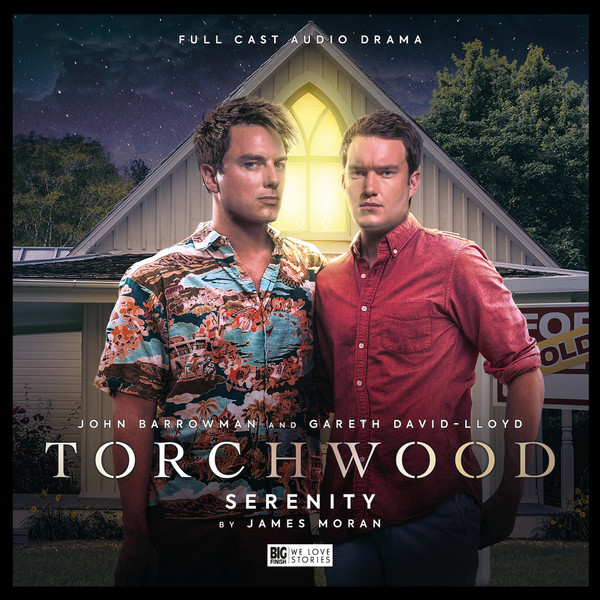 Serenity Plaza is the most exclusive gated community in South Wales. You'd kill to live there. Jack and Ianto have gone undercover as a happily married couple. There are rumours that something's wrong at Serenity Plaza and they're determined to investigate. But the problem is that Serenity Plaza is just so rigidly normal.
Suddenly, Jack and Ianto have to confront the problems that normal couples face. Sharing a house together, doing the washing up, entering the residents' baking contest, and hoping to win the Best Kept Lawn. Competition is fierce. Because this is Serenity Plaza. And you'd kill to live there.
Serenity also stars Ellie Darvill, Joe Shire and BAFTA award winner Deirdre Mullins.
Following on in August, Owen Harper (Burn Gorman) and Andy Davidson (Tom Price) are assigned another case together in The Hope written by James Goss. After their harrowing adventures in Corpse Day, we can only hope that this mission is brighter…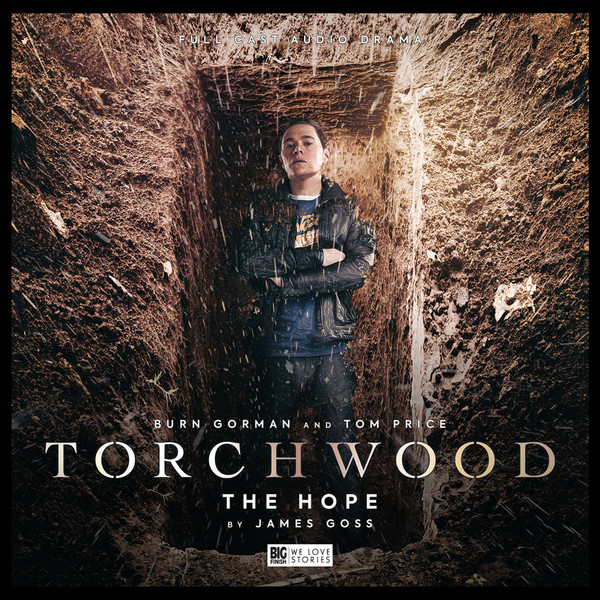 Megwyn Jones is one of the most hated women in Britain. She used to run a home for troubled children in an isolated part of Snowdonia called The Hope. For a long time there were rumours about what was happening there, and then one day it was realised that the children had gone missing.
Ever since, Megwyn's kept her peace. Is she innocent? Is she guilty? Where are the bodies? The years have been long and hard on Megwyn and on the families of the children. But now Megwyn's dying, and she's agreed to go back to The Hope, to reveal the horrible secret she's kept all these years.
Along with Burn Gorman and Tom Price, The Hope stars Nia Roberts, Ian Saynor, and Dame Siân Phillips.
In September's release, Toshiko Sato (Naoko Mori) has to deal with the aftermath when her adored Torchwood co-worker Sebastian dies, but for this employee there must be a wake before the proper Torchwood burial in the Hub.
How does Torchwood deal with the death of its poster boy? Find out in The Vigil written by Lou Morgan (who also recently wrote for series 6 of Torchwood: God Among Us).
Sebastian Vaughan is the brightest, newest recruit to Torchwood. He's come from a very good family, an excellent school, and with a degree from the finest College. He's the kind of person bred for Torchwood.
Sebastian Vaughan is exactly the person Torchwood needs. He's charming, he's smart, and he's good in a fight. He's taken Torchwood's other new recruit under his wing. With his help, Toshiko Sato will make something of herself and fit in at Torchwood.
Sebastian Vaughan is dead. Toshiko Sato's been given permission to bring his body home to give him the send-off he deserves. How will Torchwood cope without him?
The cast stars Hugh Skinner as Sebastian, Lucy Robinson and Alex Lowe alongside Naoko.
And October's release sees the return of Gwen Cooper (Eve Myles), assigned to investigate the town of Glynteg whilst a company is fracking nearby. To survive, Gwen must stay Smashed…
Glynteg was never much of a place. Since the refinery's shut down there's been nothing much going on – no jobs, no money, more pubs than buses. One of those sad Welsh towns where's there's little to do but drink.
Then the frakking company came and there was a brief spark of hope – maybe there'd be some jobs, at least. But that fizzled out. Instead the people started falling ill.
Gwen Cooper's come to Glynteg to find out what's happening. Something ancient has woken up beneath the ground and will do whatever it can to protect itself. The Hunters have been unleashed. And there's only one way to stay safe.
Written by James Goss, Smashed stars Eve Myles with Omar Austin, Dick Bradnum, Kezrena James and the late Helen Griffin, to whom the audio is dedicated.
Please note that Torchwood contains adult material and may not be suitable for younger listeners.
All of these new Torchwood adventures are available to pre-order now priced at £9.99 on CD or £7.99 on download. Don't forget all CD purchases unlock a download option via the Big Finish app and the Big Finish website.
You can buy and/or pre-order the Torchwood monthly range individually, or why not save money with a Torchwood bundle. A six-release bundle is £50 on CD or £45 on download, or you can save even more money by ordering all twelve Torchwood releases coming monthly in 2019 and 2020 together at £90 on CD or £84 on download.