For The Love Of StoriesBig Finish produce fantastic full-cast audio dramas for CD and download.
Toshiko Sato – action woman!
19 May 2022
The quiet heart of Torchwood is pushed to her limit in an exciting brand new full-cast audio drama from the monthly range, released today by Big Finish Productions.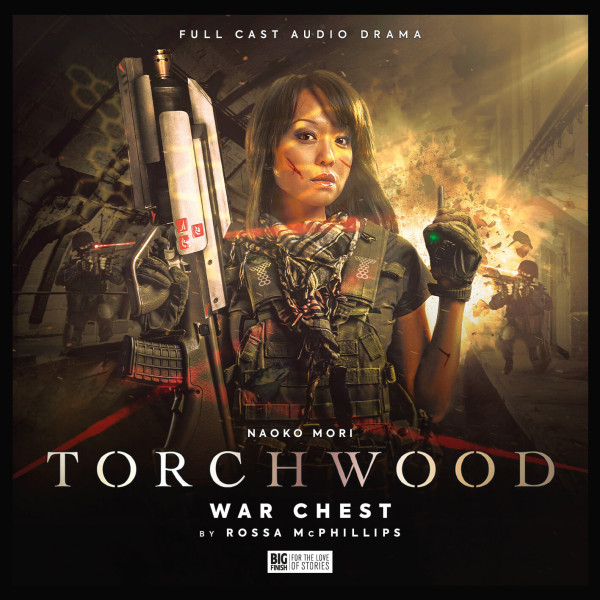 Naoko Mori stars in War Chest as shy, unassuming computer genius Tosh, forced to help thieves break into a top-secret vault. But when escape proves difficult, the power-hungry Dow Cohort realise they have no idea who they're dealing with.
Torchwood: War Chest, written by Rossa McPhillips, is now available to own on collector's edition CD (+ download for just £10.99) or as a digital download (for just £8.99), exclusively here.
Also joining the cast is Homer Todiwala (as Ed Strong), Bahvini Sheth (as Nisha Bhatti), Tom Butcher (as Vernon Roden), and Samuel Clemens (as the Antebellum guard).
It's the largest depository of alien artefacts ever assembled, ready to wage war against the heavens. Of course, they called it the Antebellum. Of course, they forgot about it.
But the Dow Cohort have rediscovered it. And tonight, they're breaking in. They have one hour and Toshiko Sato as a reluctant hostage. Can they steal Torchwood's greatest secret?
Please note that Torchwood contains adult material and may not be suitable for younger listeners.
Producer James Goss said: "It's Die Hard meets Raiders of the Lost Ark but starring Toshiko Sato. It's a thriller, it's an action movie on audio, and it's very subversive. If Michael Bay directed an episode of Torchwood after undergoing sensitivity training, then it would be War Chest."
Script Editor David Winfield added: "I was so excited to bring an accomplished thriller writer like Rossa McPhillips to the world of Torchwood. Immediately he started talking about the grey area of Torchwood's morals and was keen to test our characters to the max.
"It's gritty, hard and deadly. Tosh herself is Torchwood's most trustworthy operative so plunging her into this world of temptation was just irresistible! But is she really a hostage of the Dow Cohort? You'll have to listen to find out."
Torchwood: War Chest is available to own for just £10.99 (collector's edition CD + download) or £8.99 (download only), exclusively from the Big Finish website.
Big Finish listeners can save money by buying a six-release Torchwood bundle for just £60 (collector's edition CD + download) or £50 (download only) or a twelve-release bundle from just £94.
For a limited time only, selected Torchwood audio adventures starring Naoko Mori are up to 66% off when purchased at the Big Finish website. These offers expire at 23:59 (UK time) on 25 May 2022.
Please note that Big Finish is currently operating a digital-first release schedule. The mail-out of collector's edition CDs may be delayed due to factors beyond our control, but all purchases of this release unlock a digital copy that can be immediately downloaded or played on the Big Finish app from the release date.