For The Love Of StoriesBig Finish produce fantastic full-cast audio dramas for CD and download.
19 May 2021
It's time for Kate Stewart and her team to meet some familiar faces for the first time in UNIT: Nemesis.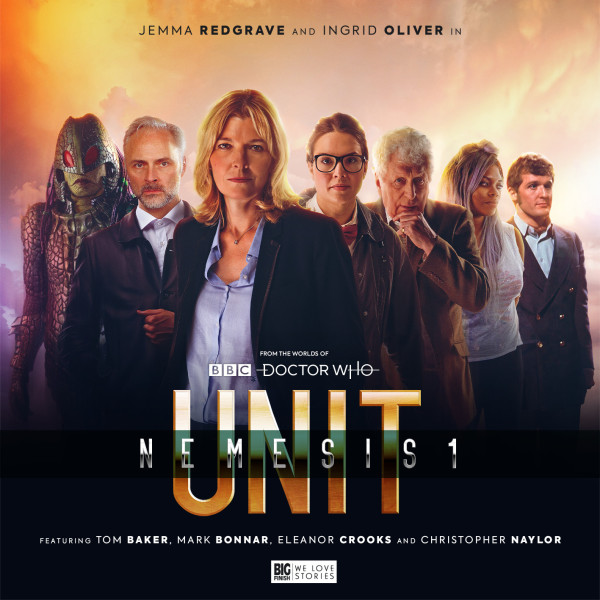 Due for release from Big Finish Productions in November 2021, UNIT: Nemesis is a Doctor Who spin-off of full-cast audio drama series starring TV cast members Jemma Redgrave (as Kate Stewart) and Ingrid Oliver (as Osgood).
It's packed full of alien adversaries. Alongside the previously-announced Ice Warriors, these adventures find the UNIT team battling malevolent Time Lord the Eleven (Mark Bonnar) through the streets of Edinburgh and beyond, whilst teaming up with the mysterious Curator (Tom Baker) in the Under Gallery. This volume marks a brand-new era for the UNIT team and the beginning of a new four-box-set arc of adventures.
UNIT – Nemesis 1 is available to pre-order as a collector's edition CD (for just £24.99) or a digital download (for just £19.99) exclusively HERE.
The four formidable features are:
The Enemy Beyond by Andrew Smith
In a UNIT facility beneath Edinburgh Castle, Kate and Osgood work to unlock the mystery of a stone arch discovered buried in a prehistoric rock formation.
When the arch takes one of their number away to a strange, bleak world, it leads to an encounter with a Time Lord. One with multiple personalities. Soon the Eleven is loose on the streets of Edinburgh and plotting to seize the arch from UNIT by any means necessary.
Fire and Ice by John Dorney
When Kate needs Harry Sullivan's help with a threat from the Eleven, she and Osgood travel to Australia to meet him. He's there with Naomi Cross, investigating footage of an apparent UFO crash that turned up on social media.
They find themselves caught in the middle of a conflict between Ice Warriors. And one Ice Warrior isn't so icy –in fact, he's red hot. And getting hotter...
Eleven's Eleven by Lisa McMullin
A series of jewel robberies in London and the Home Counties draws the attention of UNIT when it's discovered that some of the stolen gems are alien in origin.
The robberies are the work of an organised criminal gang led by East End villain Ava Drake. But Ava has a new, ruthless partner. The Eleven has promised her riches, and for him the gems are a means to defeat UNIT and regain the arch.
The Curator's Gambit by Andrew Smith
The arch is taken to the Under Gallery for safe keeping, under the protection of the Curator. When the Eleven penetrates the Gallery's security, the Curator initiates an emergency plan. He and UNIT play a game of cat and mouse with their pursuers within the Under Gallery's original location, Hampton Court Palace.
Joining the UNIT audio team of "regulars", Jemma Redgrave, Ingrid Oliver, James Joyce, Eleanor Crooks, Christopher Naylor and Tracy Wiles are Maggie Service (Doctor Who, Good Omens) as East End gang leader Ava Drake, James MacCallum (The War Master, Tolkien) as marine geologist and archaeologist Adam Merchant, Olivia Poulet (Blake's 7: Avalon, The Thick of It) as wannabe influencer Ros Green, Becky Wright (The Archers, The Monthly Adventures) as UNIT private Claire Duval and Glen McCready (Missy, Callan) as painter JW Turner.
Actress Jemma Redgrave said: "I love the scripts for the UNIT series – I think they're really well written, and these are no exception. This is a really exciting adventure, and it's the first time I've encountered the Eleven – it's an extraordinary thing to hear Mark Bonnar create eleven completely different personalities so distinctively, brilliantly and terrifyingly. He does it all effortlessly – it's a masterclass. I loved every minute of it."
Actress Ingrid Oliver said: "I absolutely loved doing these scripts, because we had someone new to play with – the Eleven! It's always fun when you get an actor who is doing so many different parts, and it's great to also have the old gang back together too."
UNIT – Nemesis 1 is available to pre-order as a collector's edition CD (for just £24.99) or a digital download (for just £19.99) exclusively from HERE!
Big Finish listeners can save money by pre-ordering the bundle, containing all four volumes in the UNIT – Nemesis series, for just £88 (as a collector's edition CD) or £79 (as a download).
Please note that Big Finish is currently operating a digital-first release schedule. The mail-out of collector's edition CDs may be delayed due to factors beyond our control, but all purchases of this release unlock a digital copy that can be immediately downloaded or played on the Big Finish app from the release date.