155. Army of Death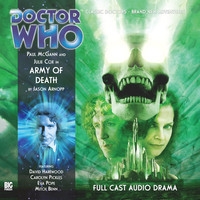 Released December 2011


Prices
| | |
| --- | --- |
| CD | US $19.28 |
| Download | US $12.99 |


Synopsis
The TARDIS brings the Doctor and Mary Shelley to the continent of Zelonia, on the frontier world Draxine – where, many moons ago, the twin citystates of Garrak and Stronghaven bore testament to mankind's colonial spirit.

That was before the sinister death cult of Garrak's President Harmon took hold – and Garrak annihilated itself, utterly, in an apocalyptic explosion. Before the bones of Garrak's dead came back to life, and its skeletal citizens began marching, marching, marching on Stronghaven itself.

But what do they want, this army of death? And can anything stop them? In search of answers, the Doctor and Mary must journey into the dead heart of a dead city to face a terrifying adversary, whose ambitions transcend the stuff of life itself.
Doctor Who main range subscribers whose subscription includes this title will receive the complete Doctor Who audio drama The Five Companions absolutely free. The adventure stars Peter Davison as the Fifth Doctor, with Jean Marsh as Sara Kingdom, Peter Purves as Steven Taylor, William Russell as Ian Chesterton, Anneke Wills as Polly Wright, Dan Starkey as the Sontarans and Nicholas Briggs as the Daleks. The Five Companions is a subscribers only release and will not be available to buy separately.
Written By: Jason Arnopp
Directed By: Barnaby Edwards
Cast
Paul McGann (The Doctor), Julie Cox (Mary Shelley), David Harewood (President Vallan), Carolyn Pickles (Lady Meera), Eva Pope (Nia Brusk), Mitch Benn (Commander Raynar/Karnex), Joanna Christie (Sherla/Baden/Tox), Trevor Cooper (Captain Maddox/Stennan/Sentries)