3. Blood and Fire (50th Anniversary Special)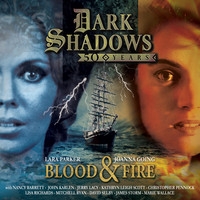 Released June 2016


Prices
CD
US $19.99
Download
US $12.99

Web Special Price!


Synopsis
"I am happy to say that the future of Dark Shadows is safe in his and Big Finish hands." 9/10 Planet Mondas
"Blood and Fire is arguably the purest distillation of Dark Shadows since the show went off the air on 2 April, 1971 ... the result is sublime, tragic and triumphant." 10/10 Sci-Fi Bulletin
Winner: Best Audio, 2017 Scribe Awards
Featuring cast from the original television series, Blood and Fire is a special audio drama to celebrate the 50th Anniversary of Dark Shadows.
"Some are born with magic, some acquire magic, and others have magic thrust upon them..."
The year is 1767. Young widow Laura Murdoch Stockbridge is to marry Joshua Collins, heir to the Collins fortune. Meanwhile, Joshua's sister Abigail is in love with disreputable sailor Abraham Harkaway.
But the course of true love never did run smooth… especially when the witch Angélique Bouchard is around.
For Angélique has been sent back in time. And she has one mission…
To destroy the Collins family forever.
Written By: Roy Gill
Directed By: Ursula Burton & Joseph Lidster
Cast
Lara Parker (Angélique Bouchard), Kathryn Leigh Scott (Patience Collins), Mitchell Ryan (Caleb Collins), Joanna Going (Laura Murdoch Stockbridge), Andrew Collins (Joshua Collins), Daisy Tormé (Abigail Collins), James Storm (Abraham Harkaway), Lisa Richards (Euphemia Spencer Stockbridge), Christopher Pennock (Uriah Spencer Stockbridge), Marie Wallace (Dorothea Summers), Nancy Barrett (Isobel Collins), David Selby (Theodore Collins), Matthew Waterhouse (Reverend Samuel Cunningham) and Jerry Lacy (Malachi Sands) with John Karlen (Alfred Loomis), Ursula Burton (Peggy Griffin), Alexandra Donnachie (Sarah Filmore), Scott Haran (Lamech Gifford), Walles Hamonde (Roderick Haskell), Daniel Collard (Robert Hanley), Michael Shon (Wolf) and Natalie Britton (Storm Elemental).
Produced by David Darlington, Joseph Lidster
Line Producer: David Richardson
Executive Producers: Jason Haigh-Ellery, Nicholas Briggs