224. Alien Heart / Dalek Soul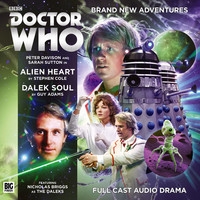 Released April


Prices
| | |
| --- | --- |
| CD | US $19.25 |
| Download | US $12.99 |

Synopsis
This title was released in April 2017. It will be exclusively available to buy from the BF website until May 31st 2017, and on general sale after this date.
'Both stories, while being vastly different in style and structure, are gorgeously detailed, cleverly crafted and are positively dripping in rich characterisation, creativity and plot twists.' - Mass Movement
'I can't say enough just how twisted and warped Dalek Soul is turning out to be, even just in its first half. This is properly dark Doctor Who and I bloody love it. 92%' - Gallifrey Archive
'If you're looking for somewhere to start, why not jump on with this release?' - The Host Productions
Alien Heart by Stephen Cole
In the TARDIS, the Doctor and Nyssa stumble across a trail of ten destroyed worlds, all of them obliterated by means of some utterly monstrous but utterly unknown device. The planet Traxana would seem to be next in line to suffer the same fate. But when the TARDIS lands on an outpost on Traxana's moon, Nyssa is carried away by a tide of giant green arachnoids, leaving the Doctor behind…
And the coming menace is closer than he thinks.
Dalek Soul by Guy Adams
On the Dalek-occupied world of Mojox, a group of rebels is engaged in a futile fightback against the invaders – but at last they've found an ally, in the form of the mysterious Doctor. Elsewhere, however, the Daleks' Chief Virologist is seeking to perfect a biological weapon to wipe out the Mojoxalli, once and for all.
Her name… is Nyssa.
Written By: Stephen Cole, Guy Adams
Directed By: Ken Bentley
Cast
Peter Davison (The Doctor), Sarah Sutton (Nyssa), Eve Webster (Sonderal), Geoffrey Newland (Elthar), Alex Tregear (Theebe), Vineeta Rishi (Falex), and Nicholas Briggs (The Daleks)
Producer David Richardson
Script Editor Alan Barnes
Executive Producers Jason Haigh-Ellery and Nicholas Briggs
Dalek Imagery from This Planet Earth.