Blake's 7: The Way Ahead (40th Anniversary Special)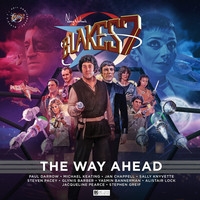 Released January


Prices
| | |
| --- | --- |
| CD | US $20.90 |
| Download | US $12.99 |
Synopsis
This title was released in January 2018. It will be exclusively available to buy from the BF website until February 28th 2018, and on general sale after this date.
"This is a must-have for any Blake's 7 fan – and if you have yet to lower your force wall to the classic audio series, it is probably a great place to start too." - IndieMacUser
"This production contains everything that made B7 so very special, and is a magnificent celebration of the series' 40th Anniversary." - Blake's 7 Online
"If you've enjoyed Blake's 7 in any form over the last 40 years, especially if you're enjoying what Big Finish have been doing, this is going to be a very easy purchase." - Blogtor Who
"9/10. A worthy celebration of a classic series." - SciFi Bulletin
"5/5 This is really a well-conceived and executed tribute to the show, and highly recommended." Cultbox
A brand new two-hour drama celebrating the 40th anniversary of Terry Nation's classic Blake's 7 series.
The Way Ahead by Mark Wright
Roj Blake. Kerr Avon. Names that sent shockwaves through the galaxy, shattering the foundations of the Terran Federation and giving hope to the oppressed. But what is their legacy? Crusading heroes or dangerous enemies of the state?
In the early days of Blake's rebellion, the Liberator comes to Malanar Delta to aid resistance leader Avalon, but the crew find Space Commander Travis and his Federation forces waiting. An abandoned Federation research project could give Travis the key to finally bringing Blake to justice.
Years later, in the aftermath of the Galactic War, Avon and the Liberator crew fight to survive as new battle lines are drawn and alliances forged by President Servalan. Will survival be enough when a symbol of hope is turned into a devastating engine of war?
Written By: Mark Wright
Directed By: John Ainsworth
Cast
Paul Darrow (Kerr Avon), Michael Keating (Vila Restal), Jan Chappell (Cally), Steven Pacey (Del Tarrant), Jacqueline Pearce (Servalan), Yasmin Bannerman (Dayna Mellanby), Alistair Lock (Zen / Orac), Sally Knyvette (Jenna Stannis), Stephen Greif (Travis), Olivia Poulet (Avalon), Kate Brown (Cassandra), Glynis Barber (Magda), Sam Woodward (Sheltak / Freighter Captain), Catherine Bailey (Mutoid / Captain), Fanos Xenofós (Interceptor Commander / Trooper). Other parts played by members of the cast.
Producer John Ainsworth
Script Editor John Ainsworth
Executive Producers Jason Haigh-Ellery and Nicholas Briggs