1. Captain Scarlet and the Mysterons 50th Anniversary Limited Edition Deluxe Box Set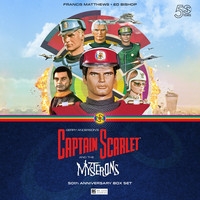 Released September


Prices
CD
US $60.73
Download
US $35.00

Web Special Price!

Synopsis
This title was released in September 2017. It will be exclusively available to buy from the BF website until October 31st 2017, and on general sale after this date.
Mini albums
Introducing Captain Scarlet by Angus P Allan
Captain Scarlet and the Mysterons by Angus P Allan
Captain Scarlet is Indestructible by Richard O'Neill
Captain Scarlet of Spectrum by Angus P Allan
Captain Scarlet versus Captain Black by Richard O'Neill
Adapted TV stories
Big Ben Strikes Again by Tony Barwick
Manhunt by Tony Barwick
The Trap by Alan Patillo
Special Assignment by Tony Barwick
Heart of New York by Tony Barwick
Model Spy by Bill Hedley
Flight 104 by Tony Barwick
The Launching by Peter Curran and David Williams
Also includes a brand new sixty minute Captain Scarlet anniversary documentary
Written By: Angus P Allan, Richard O'Neill, Tony Barwick, Alan Patillo, Bill Hedley, Peter Curran, David Williams
Directed By: Jamie Anderson
Cast
Francis Matthews (Captain Scarlet), Ed Bishop (Captain Blue), Donald Gray (Colonel White, Captain Black, The Mysterons), Cy Grant (Lieutenant Green), Liz Morgan (Destiny, Rhapsody, Harmony Angel), Sylvia Anderson (Melody Angel), Jeremy Wilkin (Captain Ochre), Janna Hill (Symphony Angel)
Director and Producer Jamie Anderson
Executive Producers Jason Haigh-Ellery and Nicholas Briggs
Captain Scarlet ™ and © 1967, 2001 and 2017. ITC Entertainment Group Limited. Licensed by ITV Ventures Limited. All rights reserved.