1. Charlotte Pollard Series 01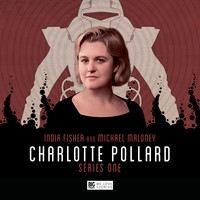 Released May 2014


Prices
| | |
| --- | --- |
| CD | US $40.27 |
| Download | US $25.00 |

Behind the Scenes
(Interview highlights taken from Vortex 63 which can be downloaded HERE)
She's travelled with the Eighth and Sixth Doctors but now she's stepping out into the limelight of a solo series. India Fisher talks Charlotte Pollard – and we get a baby update!
Hi India! How does it feel to be back as Charley after your absence?
It's always great to play Charley again; she's like an old friend, and has been part of my life for well over a decade now, which is scary. I was very sad to leave the Sixth Doctor and I missed playing her and being part of the Big Finish family. So I was naturally thrilled when I got the call to say they were writing a spin-off. It was especially interesting to venture into this new era with her. Life after the Doctor. I always wondered what she'd been up to and how she'd cope.
For those who've not encountered Charley before, why should they jump on board with this box set?
She's a gun-wielding, alien chasing, Edwardian Adventuress with a good line in witty banter. What's not to love?
Were you surprised that the character is loved enough to warrant a spin-off?
Frankly I'm amazed. I knew from talking to people over the years that she was a popular companion. And rightly so, she's so enthusiastic and full of life, she's really good fun, such a great character to play. You can't be in a bad mood after having been Charley for the day! But it was only when I ventured onto Twitter and the spin-off was announced that I had an inkling of how strongly people felt about her. I feel that has far more to do with the brilliant writing over the years rather than anything I've done. She's a character that has always jumped off the page, no acting required. From the first encounter on the R101 she was fully formed and I have Alan Barnes to thank, from the bottom of my heart, for that.
How do you approach the character these days?
I never have to worry about 'finding' Charley; she is so much a part of me now, she instantly comes out. She's familiar and comfortable, like putting on an old pair of shoes. Although she has evolved as a character, she's grown up. Which is no bad thing as I'm no longer in my twenties (ahem!), so she needed to grow with me and I'm very lucky that she has.
What's different about Charley in this series as she goes out on her own?
She had grown massively as a person during her time with the Sixth Doctor. She'd lost her innocence and naivety. Now when we meet up with her after years of working with the Viyrans, she has certainly become much more worldly-wise, not to say jaded. She's the same Charley at heart, but she's been beaten down by life somewhat. She's seen a darker side and that has had an influence on her. There are hints that she has had to do some morally questionable things and that gives a brilliant new dimension to her. Which is brilliant to play. This isn't Anti-Charley, it's Charley: the Dark Side. She's at breaking point and is prepared to risk everything, even her life, to escape.
You're also reunited with your parents in the shape of Anneke Wills and Terrence Hardiman. How did you build (or rebuild, in Anneke's case) those relationships?
Seeing Anneke is always like going home anyway. She's such a warm and caring person. She just lights up the room. And Terrence was wonderful. Seeing the two of them together was amazing, they had such a rapport and gelled so brilliantly. I would stay in the studio for scenes I wasn't in just so I could hear them together. They were magic. So that made it supremely easy for me to just slip into the mix. The Pollards were a joy to play, and I loved the fact we finally get to see where Charley came from.
For one episode it's an all-woman cast, which is quite the sci-fi rarity. What was that like?
Noisy! There was a lot of chat, mainly about babies. I was thrilled that Big Finish had written an all-female story. It's very rare and was great fun both whilst recording and the story itself. I do think that the boys at the recording were pretty terrified though.
Finally, we've mentioned in the past that you were pregnant while recording the series; can you give us a baby update?
Aneurin (Nye) Harrison was born on 4th December, so a matter of days after we finished recording. Excellent timing. He is now nearly five months old, finding everything fascinating and giggles and drools in equal measure! As we speak he is sitting on my lap, as he's refusing to be put down or sleep. Life is just too interesting today. So forgive me if the answers have been somewhat erratic; motherhood tends to take precedence these days to all other aspects of life! But it's an adventure worthy of Miss Pollard herself and I'm loving every minute of it.