8.6. Fever Island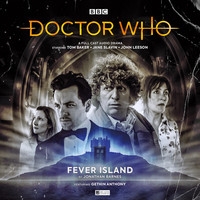 Released February


Synopsis
Jason Vane is England's suavest secret agent, and today he's on his deadliest mission yet. Tracking down the evil Okulov... before he destroys the world.
The Doctor, Ann and K9 are, in contrast, finding their own mission a little hard to complete. A strange storm in the vortex has swept them back in time, back to Earth in 1978 and a strange place called 'Fever Island'.
A place where their worst nightmares are about to come true...
(Note that this release is one of four collected together in Doctor Who - The Fourth Doctor Adventures Series 8B)
Written By: Jonathan Barnes
Directed By: Nicholas Briggs
Cast
Tom Baker (The Doctor), Jane Slavin (WPC Ann Kelso), John Leeson (K9), Gethin Anthony (Jason Vane), David Rintoul (Dr Leon Jessel), Bettrys Jones (Miss Pocket/ Dr Caroline Pursglove), Carolyn Seymour (The Commodore/ Mrs Kidd), Barnaby Edwards (Desmond Kettley). Other parts played by members of the cast.
Producer David Richardson
Script Editor John Dorney
Executive Producers Jason Haigh-Ellery and Nicholas Briggs