4. Jago & Litefoot Series 04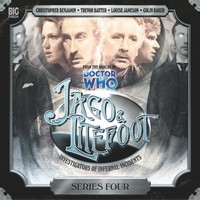 Released March 2012


Prices
| | |
| --- | --- |
| CD | US $46.41 |
| Download | US $30.00 |

Behind the Scenes
DARK RISING
Jago and Litefoot return for their fourth series, accompanied by the reliable Ellie, Sergeant Quick and Leela – and with the mysterious Professor Claudius Dark lurking just out of sight. Producer David Richardson gives a preview of what lies ahead…
Could you remind us where we left Jago and Litefoot at the end of series three?
Spoiler-phobes, look away! We left Jago and Litefoot in the presence of the mysterious Professor Claudius Dark, played by the inimitable Colin Baker. Dark might be exactly who he says he is. He might be the Doctor. He might be Burner from the Gallifrey series. Or he might be something entirely different…
What were your thoughts as you went into the fourth series?
Actually, my overriding thought was that it was probably, and sadly, going to be the last. Thankfully, we now know that it's not the last – far from it. But at the time we thought we were bringing Jago & Litefoot to a neat close, and to some extent the stories reflect that. Actually, what it does do rather nicely is bring the series to a sort of close and then open a new chapter – though not the one you might think you're getting when you hear the cliffhanger!
The cast list is quite full these days, isn't it?
That's true. We've got Jago and Litefoot, plus Ellie and Quick, our series regulars. On top of that, Louise Jameson is still around as Leela, while Colin is on board as Professor Dark, although not all of them are major players in every episode. Even so, I think next time you'll see a change of direction – we're stripping things right back for series five, which will just be Jago, Litefoot and Ellie investigating a bunch of cases. I think, by then, it's time for the series to stand on its own again for a while. It's been a lot of fun playing with some new dynamics, but I always wanted to ensure this was a series that never rests on its laurels.
Where do Jago and Litefoot go this year?
Oh, lots of places they haven't been before. They go on holiday to Brighton, where Jago meets the love of his life. They go to the theatre, and Litefoot meets Oscar Wilde, who he cannot abide. They go round in circles on a train trapped in time, and they go far and wide to defeat a new and deadly enemy…
As usual, there is danger, humour and adventure in spades, plus there's romance and some very poignant heartbreak. I'm a bit in love with these four stories, and I think our recurring enemy is just sublime.
Everyone seems to have such a good time making it.
We do. We have the best time, and that all comes from Christopher Benjamin and Trevor Baxter, who are every bit as adorable, warm and entertaining as their fictional characters. And it's not an easy series to make – it's a tight budget, so there's lots of difficult scheduling, doubling, pre- and post-recording. Poor Lisa Bowerman has to wear two hats – director and actor – while keeping on top of it all. But there is constant laughter, which you'll discover if you listen to the CD extras. In fact, the CD extras of this series contain my favourite interview moment ever, as Trevor recalls a dinner party from the early 1970s.
In terms of production, where are you at now with the series?
Series five is recorded, and will be entering post-production soon for release early next year. Series six is being written right now – I've had the script for episode four, episodes one and three are due, and episode two is about to get underway. I expect we'll be recording that around May. We have a commission for series seven, which I suspect we'll be recording early next year.
Jago and Litefoot are reunited with the Fourth Doctor next year. How did that come about?
It really was an obvious thing to do, but we've actually done it in a way that's not very obvious. We've shaken up the dynamic by doing the story with Romana rather than Leela, so there's a whole new frisson between Romana and Jago. I knew I wanted John Dorney to write it, as he'd done such lovely work on Swan Song and Beautiful Things, and it's a lovely steampunk romp that's very different to both The Talons of Weng-Chiang and the Jago & LItefoot series.
My only regret is that we originally wanted Lisa Bowerman to be in it as Ellie and she was in an early draft of the script. But it just felt like the Fourth Doctor was guest starring in Jago & Litefoot rather than the other way around, and I think we had to respect that this was Tom's show. But I think it will be great and I'm itching to hear the edits.