204. Criss-Cross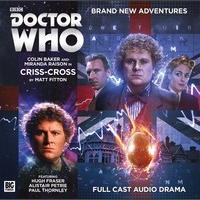 Released September 2015


Prices
| | |
| --- | --- |
| CD | US $20.12 |
| Download | US $12.99 |


Behind the Scenes
Writer's Notes
The thing about historical, even pseudo-historical stories such as this, is that research comes with the territory. And on a subject like Bletchley Park, I was very keen to respect the legacy of all the men and women who worked tirelessly in those draughty huts in the Buckinghamshire countryside. And of course I knew Colin would always do his homework and challenge any historical inaccuracy!
With recent high profile films and documentaries, everyone now seems to know something of the Enigma machine and those who cracked it, but there are so many unsung heroes who worked 'through the sodden Bletchley day.' I couldn't mention everyone I wanted, the Polish codebreakers who laid the groundwork on the 'bombe' machines, for instance. And all the Wrens and clerical staff seconded into these most secret of duties. (Among them my wife's grandmother – who only very recently passed away – and she had memories of passing Alan Turing in the canteen and Manor grounds.) The research made fascinating reading: these ladies' accounts of day-to-day life at B.P., the matter-of-fact way in which they dealt with the secrecy, while working all hours, taking tea in the canteen, organising dances and shows – simply 'getting on with it' as they helped win a war, never knowing the full picture themselves until much later.
Of course, in Criss-Cross we take a fictional member of this select band on board the TARDIS. Leading Wren Mrs Constance Clarke comes fully formed from the fertile imagination of Alan Barnes. It was just my job to place her in context and invent the circumstances in which the Doctor invites her aboard. Or rather in which Constance invites herself, with rather urgent reasons…
And how marvellous to have Miranda Raison playing her. It had always been the plan to have a first outing with the new recruit set mid-travels in The End of The Line (from the Sixth Doctor's Last Adventure), so I made a point of going along to that recording to get a handle on Constance's voice. It was brillaint to see and hear Miranda in action, giving Constance the stiff-upper-lip, best-of-British brio that I was already writing in this tale.
Another real-life inspiration, for Agent Criss-Cross himself – brilliantly realised by Paul Thornley – is Agent Zig-Zag, Eddie Chapman. Look him up. Its an incredible story in every sense. In fact, I would hope that historical stories still do the thing they always did for me when watching Doctor Who on TV – to inspire folk to go and find out a little more about the real history.
My thanks to the staff at the Bletchley Park Trust, where I spent several days walking the paths, exploring the huts and the Manor House, working out the Doctors escape route, among other logistical points! It's well worth a day out if you are in the area. Thanks too to Sinclair McKay, Bletchley's biographer, who fielded a couple of odd questions from me. Indeed he noted that Dilly Knox himself was quite Doctor-like in his behaviour on occasion. I'd suggest you go and look him up too – along with the full verses of his 'Epitaph on Matapan to Mussolini'. The truth is often as intriguing as any fiction…
Matt Fitton, 2015
Twitter: @mattief