183. The Brood of Erys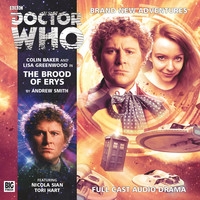 Released February 2014


Prices
| | |
| --- | --- |
| CD | US $18.97 |
| Download | US $12.99 |


Behind the Scenes
(Excerpt from Vortex issue 60 - click here to DOWNLOAD)
ON THE FLIP SIDE
BACK FOR A SECOND TRILOGY OF TALES AS FLIP, LISA GREENWOOD CHATTED CONVENTIONS, COLIN AND CASUALTY WITH PAUL SPRAGG
What's it like being back?
It's been great! It's normal. It would have been a bit scary being back, but it's like I've not been away really.
Last time, you dropped by the forums to see what people thought of you.
I did, I did. The first ever time I did I dropped by and had a look to see what everyone was saying, but hopefully everyone enjoyed them. I've got a few people on Twitter always commenting and saying how much they enjoyed the character so I'm glad at least some people enjoyed it. I can't speak for everyone, but I'm happy at least one person did!
And now you've been asked back.
I'm really happy about that, actually. I really enjoyed the character and it's really fun for me to play. It's different to anything I've played before, really. She's quite outspoken, she can be quite brash, but she's a really fun character to play.
What's the arc for Flip in this new trilogy?
Flip for me; she's always been quite confident, but she seems to have come out of her shell quite a lot more and she seems to be on her own quite a lot, with different people rather than the Doctor, so she's taking the lead in her own way. She has some really great moments in there; she's quite a funny character, so she has some really lovely comedy one-liners, but I think she really finds herself and her confidence and she's getting used to all this craziness so it's not really affecting her as much now, which is fun.
What can people expect from Flip this time?
I think just more of what we had before, really. She's kind of like a whirlwind, Flip. She's very much in your face.
It's been a couple of years since you've appeared in stories due to the rotation of Sixth Doctor companions.
It's sad, but it's also exciting. It does open the door for new stories and new companions, which I think's always good. When I first started I was the new companion and I think people were a bit dubious about that; but some people did like it. Some people might not have. It just gives the opportunity for another new person to come in and try it out and see if the fans are receptive. I don't think it's a bad thing. Change is good. Change is always good.
Now you're an experienced hand at audio, are you finding this second trilogy more comfortable to do?
I've kind of just got the same approach really; I try to read the script and try and get out what comes naturally. So I just try and do that a lot. Obviously it was great to be here the first time because you can be quite nervous, you've never done it before, so I did have a little more confidence this time – now that I've got one person who likes me who follows me on Twitter! That makes a big difference. I'm doing it for them!
Thanks to your comment on Twitter, everyone calls Nick Dalek Face now. So that's a small measure of revenge.
I'm glad to have been of service. Brilliant! I love that; I must think of more insults. I think he loves it, to be honest.
Have you got a taste for audio work now?
Definitely. This is the only audio work that I've ever done but I do really enjoy it and it's so much fun. It's probably one of the funnest experiences I've had throughout my career, because you can really let go and you have to make everything a lot bigger. So you find yourself in the booth doing these ridiculous movements and these ridiculous faces, and it's just really, really fun. I've laughed quite a lot since I've been here, so it's good.
What do you have coming up?
I'm back on the audition thing; I'm waiting to hear back on a few different bits which is exciting but we're just waiting for something exciting to do. I've done an episode of Casualty recently, in which I had a fake tan reaction, which was quite fun.
Hang on… what???
My boyfriend put peanut butter in my fake tan, I was allergic to peanut butter and my face went up, basically blew up. That was the storyline. It was something fun as well; after The Hour, quite a serious period drama, it was good to just kick back and relax and do something a bit more with a comedy aspect to it.
Do you find comedy particularly appealing?
I wanna be as varied as possible. I am drawn to comedy; I try to put a bit of it into my script when I'm reading. But I'd like to be varied. It's weird; when you do a period drama or something, you yearn to do a bit of comedy, but when you do the comedy, you yearn to do a bit of period drama. So I'd like to do a bit of everything really.