The Eighth of March: Inside Every Warrior (excerpt)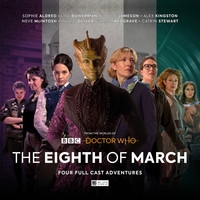 Released March
Synopsis
This excerpt from The Eighth of March is available free to Big Finish Newsletter subscribers in March 2019.
3. Inside Every Warrior by Gemma Langford
The Great Detective, Madame Vastra, aided by her resourceful spouse, Jenny Flint, and loyal valet, Strax, is looking into a series of mysterious break-ins.
An eccentric scientist and his put-upon assistant are the latest victims. Evidence mounts, with animal footprints and a trail of destruction.
Written By: Gemma Langford
Directed By: Helen Goldwyn
Cast
Neve McIntosh (Madame Vastra), Catrin Stewart (Jenny Flint), Dan Starkey (Strax), Julie Atherton (Hodge), Nigel Fairs (Cornelius Pinch), Tom Bell (Prog / Percy), Louise Faulkner (Laeticia)
Producer David Richardson & Emma Haigh
Script Editor Matt Fitton
Executive Producers Nicholas Briggs and Jason Haigh-Ellery