The Eleventh Doctor Chronicles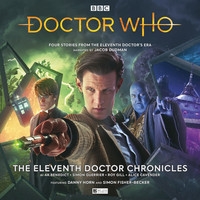 Released August 2018


Prices
| | |
| --- | --- |
| CD | US $46.27 |
| Download | US $30.00 |

Behind the Scenes
Producer of The Eleventh Doctor Chronicles, Scott Handcock, recalls the previous box set of tales from New Series Doctor Who: "It was a pleasure to introduce Jake as narrator on The Tenth Doctor Chronicles but, as fans of his are already well aware, Jake's ability to capture Matt Smith's unique vocal rhythms is really quite uncanny.
"Uniting him with the talents of Danny Horn and Simon Fisher-Becker as Kazran and Dorium respectively has been a treat, whilst Eleanor Brooks and Nathalie Buscombe bring a whole new energy as colonist Olivia Pamiec and the legendary Jane Austen – all under the marvellous direction of Helen Goldwyn."
Helen Goldwyn, director, tells us more: "It's been really interesting recording the Eleventh Doctor after The Tenth Doctor Chronicles. The Tenth Doctor has such a buoyant energy that the Eleventh is subtle in comparison. And of course, there's this ancient, paternal quality to him that Jake captures so brilliantly – despite the fact that he's only 20 years old. Obviously Matt Smith has a very idiosyncratic delivery and Jake has planted some beautiful examples of that throughout the set.
"We were really lucky to have Danny Horn and Simon Fisher-Becker join us from the television series. I think people have a real affection for the Kazran character; so challenged by his upbringing but trying to learn to be a good man in spite of that. Jake and Danny really hit it off on the recording day and that shines through in their episode. There's genuine affection and comradeship between the Doctor and Kazran; almost a pride from the Doctor as he sees Kazran evolving. The only drawback was that, although the Doctor and Kazran are clearly distinguishable in their scenes, Jake's narrator voice and Danny's vocal tone were much more similar in the edit than I'd realised in studio. We've had to be careful to position them in different parts of the soundscape (brilliantly designed by Richard Fox).
"Simon Becker-Fisher was a delight to have involved. He's such an experienced actor and his performance and characterisation have real depth and subtext. It was fun hearing the relationship develop between Dorium and the Doctor as they quickly get the measure of each other and banter accordingly! Recording day was full of anecdotes too, as you can imagine!
"Another guest was the wonderful Eleanor Crooks who I'd been wanting to work with for a while. She is a winner of the prestigious Carlton Hobbs Radio award and her voice is so distinctive. Her performance is very subtle and nuanced, and one of the best parts about working with Ellie is that she takes direction beautifully and adapts in exactly the right way, first time. It's a shame it's audio actually as she looks extraordinary (she's over 6' tall!) and I've no doubt she'll be cast in some iconic sci-fi role on screen at some point."