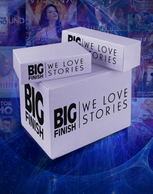 Grab yourself a CD bargain!
With so many more great new releases coming your way we need to make some space – clearance prices start from 99p.
Head to this page https://www.bigfinish.com/offers/v/bfwarehouse18b and use code ALISON (all upper case) to access the offer page.
These titles are available on a first come-first served basis so don't delay if you want to secure physical copies.
Download versions of these releases will be available at a reduced price once the physical stock is sold out.
These offers end at 23:59 UK time on the 18th of June 2018, so don't miss out!
Read more