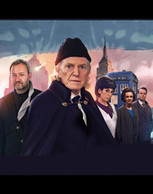 David Bradley is the First Doctor at Big Finish!
Coming in January and July from Big Finish is Doctor Who - The First Doctor Adventures, starring David Bradley, Jamie Glover, Jemma Powell and Claudia Grant.
Available either as five-disc CD sets, or as a specially-priced bundle of the two, or on Download, these thrilling tales can be pre-ordered today.
For more information, check out the original announcement here, and keep watching the Big Finish website for more news...
Read more