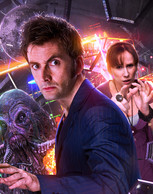 Free downloads with Big Finish CDs!
Did you know you can enjoy a free audio download with almost every CD in the Big Finish catalogue? Listen to favourites like the Tenth Doctor Adventures, Torchwood, UNIT and more, from the moment you place your order!
Simply place an order for almost any of our CD titles, and you'll find a download waiting in your Big Finish account. Downloads are offered in both mp3 and audiobook formats, letting you choose exactly how you'd like to listen to your purchase.
Complimentary downloads are also included with titles available to pre-order and are available the second a title is released: meaning you can be one of the first to listen to the latest Doctor Who, Dark Shadows and Blake's 7 adventures. Check out our list of free titles and test our downloads for yourself!
Read more