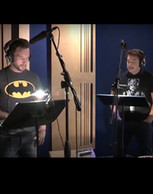 Torchwood @ 10!
As part of this weekend's celebration of Torchwood's tenth anniversary, we've revealed an exclusive video talking to the creatives and stars involved in Big Finish's Torchwood range.
A ten minute video can be found here, going behind-the-scenes of a Torchwood recording, and talking to some of those involved - including John Barrowman, Gareth David-Lloyd and Tom Price (note that some scenes are not suitable for younger viewers)
For more Torchwood anniversary news, including the release of The Torchwood Archive, and a 15% discount on our first 12 single-disc adventures, check out the news story here.
The entire Torchwood range can be found here.
Read more