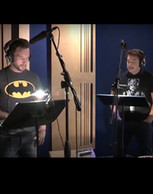 Torchwood @ 10!
Ahead of this weekend's celebration of Torchwood's tenth anniversary, we reveal an exclusive video talking to the creatives and stars involved in Big Finish's Torchwood range.
A ten minute video has been released today, going behind-the-scenes of a Torchwood recording, and talking to some of those involved - including John Barrowman, Gareth David-Lloyd and Tom Price (note that some scenes are not suitable for younger viewers)
For more Torchwood anniversary news, watch the Big Finish news pages tomorrow. The entire Torchwood range can be found here.
Read more