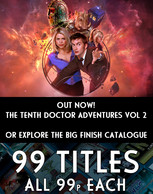 Tenth Doctor and Rose Tyler return!
Out now! Three brand-new full-cast audio adventures...
Available either in a lavish limited edition box set or as three individual stories, you can find more details here.
And until 22nd December you can enjoy 99 titles from the Big Finish catalogue on download for just 99p each. Read more about this offer here.
All purchases will be immediately available in your Big Finish account for downloading via a web browser - or accessible through the completely free Big Finish Listening App for Apple and Android mobile devices. Check it out today!
Read more