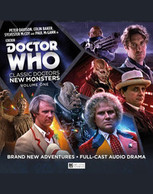 Out Today! Doctor Who - Classic Doctors New Monsters!
The much anticipated meeting of the classic and new is here. Join us for four new tales as Doctors and monsters battle anew... Weeping Angels, Judoon, Sycorax, Sontarans in the TIme War!
Doctor Who - Classic Doctors, New Monsters Volume 1 is now available on CD and Download, exclusive to Big Finish for the next two months, at a special price of £20 on either format!
Read more about this fantastic new release including a brand new video trailer right away...
Read more