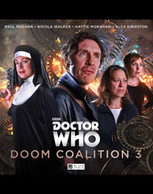 Doctor Who: Doom Coalition 3 - Out Now!
The Eighth Doctor, Liv, Helen and River are back - and it's about time...
Doctor Who - Doom Coalition Series 3 is now available, as Paul McGann, Nicola Walker, Hattie Morahan and Alex Kingston star in four new stories, as the Doctor and his friends become involved in a universe-spanning conspiracy.
A brand new video trailer, as well as ordering details, can be found here.
Check out Big Finish's full range of audios based on the Eighth Doctor's Adventures on our range page here.
Read more