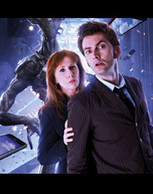 Doctor Who: The Tenth Doctor Adventures - While Remaining Stocks Last!
Allons-y! David Tennant and Catherine Tate are back in action, in three new Tenth Doctor stories. Order here! From beneath the streets of London, to the spaceport planet Calibris, to the beautiful land of Goritania, the Doctor and Donna tumble through the Time Vortex in new adventurers recreating a beloved era of Doctor Who.
You can buy these three new stories today, either individually or as part of the Doctor Who: The Tenth Doctor Adventures Volume 1 – Limited Edition set which only has a few copies now remaining. Limited to just 5,000 copies and available exclusively from bigfinish.com, this lavish book-sized box set (unlocking download access) includes exclusive artwork, photography, articles, a one-hour documentary featuring interviews with the stars and production team – alongside a bonus documentary examining the worlds of Doctor Who at Big Finish. Order your copy for just £40 on CD or £25 to download. The individual stories are available for £10.99 each on CD or £8.99 to download (with bundles also available).
Check out Big Finish's full range of audios based on the New Series of Doctor Who on our range page here.
Read more