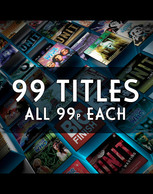 99 for 99p!
Running until 22nd December is one of Big Finish's most generous special offers, perfect for everyone, from those starting anew (be sure to tell your friends!), to those looking to fill a few digital gaps, as we make 99 Doctor Who-related releases available on download for just 99p each.
As covered in the News Item here, you can choose from the first 50 Doctor Who main range titles, or Doctor Who on stage, or Dalek Empires, Cybermen, Iris Wildthyme and more.
To find the offers, visit the www.bigfinish.com/99for99 page using the password "redballoons" to have your pick of the titles.
Purchases will be instantly available in your Big Finish accounts for downloading via a web browser - or accessible through the completely free Big Finish Listening App for Apple and Android mobile devices. Check it out today!
Read more