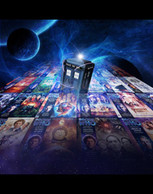 Doctor Who - Main Range 101-150 (from £5)
Fifthy of some of our most loved Doctor Who stories are at special offer prices until mid-day (UK time) Thursday 22nd Feb.
Along with bundles, we've even lowered the price of Subscriptions for these stories - so strike now and enjoy some of the Big Finish exclusive subscriber extras!
For more information, read the news announcement here, or view all the releases in the range here.
Read more