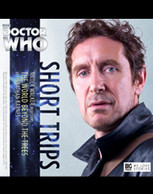 Doctor Who: Short Trips Offers And News All Weekend!
Join us as this weekend we celebrate our Doctor Who - Short Trips range, with special offer prices, brand new releases, and story news!
Download offers this weekend cover the first four Short Trips releases for £5 each, the 12 Short Trips from 2015 at £1.99 each (bundled for £20), and the new Short Trips Rarities at £2.25 each (bundled for £10).
And this weekend we announce details of the first five stories of 2017 including a brand new trailer!
Our entire collection of Doctor Who - Short Trips stories can be found on this link.
Read more