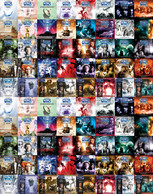 10% OFF EVERTHING UNTIL 23:59 (UK time) on 21/10/2017
Use offer code MROCT2017 (all upper case) at checkout to ensure your discount is applied.
Yes, you read that right. EVERYTHING! Every Big Finish release, subscription and bundle, making this the perfect time to fill any gaps in your Big Finish collection.
Read more