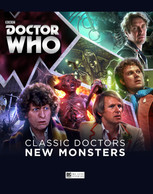 Released on 27th July and now available on CD or Download is the hugely anticipated second volume of stories featuring Doctors of the classic years of Doctor Who encountering monsters from the new era of the show. Join the Fourth and Eighth Doctors as they confront the Vashta Nerada, the Fifth Doctor becoming a pawn in the empire of the Racnoss, and the Sixth Doctor's language-loving Time Lord up against the Carrionites: monsters who can use words against you...
Any CD purchase unlocks a free digital version as an exclusive to Big Finish customers, and until the set's general release at the end of September it can be bought at the frozen pre-release prices of £23 on CD and £20 on Download.
For more information, check out the release page here.
Read more